Mr. Nikolay V. Zubanov
Guest Lecturer
Professor at Goethe University Frankfurt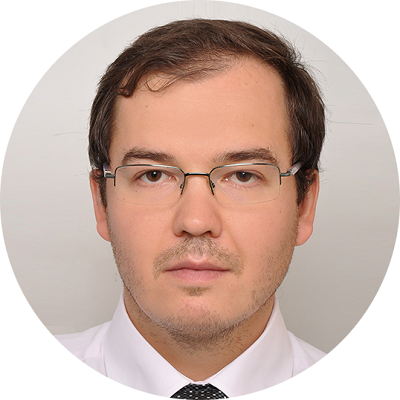 EDUCATION AND ACADEMIC DEGREES
Ph.D., University of Birmingham (UK), 2007; M.A., Central European University (Hungary), 2003; B.Sc., Samara State Technical University (Russia), 2001
ZA, Verein für Socialpolitik (German Economic Association), Graduate School of Management and HSEUniversity St. Petersburg.
ACADEMIC AND ADMINISTRATIVE POSITIONS
2013 - 2016: Professor (W3) of Management Science and Strategy at Goethe University Frankfurt.
2011 - 2013: Assistant professor (W1) of Economics at Erasmus University Rotterdam.
2009 - 2011: Assistant professor (W1) of Human Resource Studies at Tilburg University.
2007 - 2009: Researcher at CPB Netherlands Bureau for Economic Policy Analysis.
2004 - 2007: Teaching assistant at Birmingham Business School
SELECTED PAPERS AND PUBLICATIONS
Refereed journal articles
Middle managers, personnel turnover and performance: A long-term field experiment in a retail chain.
Management Science, 2021, https://doi.org/10.1287/mnsc.2020.3905 (with Matthias Heinz and Guido Friebel).
Market competition and the effectiveness of performance pay. Organization Science, 2021, 32(2): 334-351 (with
Matthias Heinz, Guido Friebel, Tobias Kretschmer and Pooyan Khashabi).
The "Sales Agent" problem: Effort/leisure allocation under performance pay as behavior towards risk. Economic Inquiry, 2019, 57(4): 1997-2016 (with Bram Cadsby and Fei Song).
Olley and Pakes-style production function estimators with firm fixed effects. Oxford Bulletin of Economics and Statistics, 2019, 81(1): 79-97 (with Andrey Stoyanov and Yoonseok Lee).
Team incentives and performance: Evidence from a retail chain. American Economic Review, 2017, 107(8): 2168-2203 (with Guido Friebel, Matthias Heinz and Miriam Krüger).
The power of (no) recognition: Experimental evidence from the university classroom. Journal of Behavioral and
Experimental Economics, 2017, 67: 75-84 (with Nicky Hoogveld).
Risk aversion and effort under an incentive pay scheme with multiplicative noise: theory and experimental evidence. Evidence-based HRM: A Global Forum for Empirical Scholarship, 2015, 3(2).
Book chapters
Tijdelijke crisis, blijvende schade? [Temporary crisis, lasting loss?] (with P. Broer, A. Elbourne, and B. Smid) In C. Teulings and C. van Ewijk (eds.) De Grote Recessie. Het Centraal Planbureau over de kredietcrisis. Uitgeverij Balans, 2009. In Dutch.
When should the Central Europeans join the EMU? Reconciling real and nominal convergence (with Jacek Rostowski). In L. Balzerowicz and S. Fischer (eds.) Living Standards and the Wealth of Nations: Successes and Failures in Real Convergence. MIT Press, 2006.
Uneven growth in a monetary union. In M. Dabrowski and J. Rostowski (eds.) The Eastern Enlargement of the Eurozone. Springer, 2006.
Other writings
Wie Anerkennung die Leistung steigern kann [How recognition can increase performance] Forschung und Lehre, 2018, 12.
Teamboni: Wie man Gewinn und Gehälter mit dem gleichen Instrument erhöhen kann [Team bonus: how can one increase both profits and salaries with one measure] (with G. Friebel, M. Heinz and M. Krüger) Personal Quarterly: Wissenschaftsjournal für die Personalpraxis, 2015, 3: 22-25.
Relation entry, exit and productivity. An overview of recent theoretical and empirical literature. CPB document No. 180, 2009 (with V. Kocsis, R. Lukach, B. Minne, V. Shestalova, and H. van der Wiel).
Human resource management practices, organisational outcomes and performance: An analysis of WERS 2004 data. UK Department for Business Enterprise & Regulatory Reform Employment Relations occasional paper,2008 (with Jonathan Michie and Maura Sheehan).
Working papers
Performance effects of downsizing announcements (with Matthias Heinz, Guido Friebel and Ingo Weller). IZA discussion paper No. 9739. R&R
What do employee referral programs do? (with Mitchell Hoffman, Matthias Heinz and Guido Friebel). NBER working Paper No. 25920. R&R.
Skill dispersion and firm performance (with Andrey Stoyanov). IZA discussion paper No. 12433. R&R.
Working more for more and working more for less: Labor supply in the gain and loss domains (with Bram Cadsby and Fei Song). U. Guelph discussion paper No. 2020-06. R&R.
OTHER PROFESSIONAL ACTIVITIES
Member of International Board, Executive MBA program, Graduate School of Management, St. Petersburg State University (2017-present)
Chief Financial Officer for CIS, international logistics company Geo, 2006-2008
Member of Supervisory BoardPublic joint stock company «BANK URALSIB» (April 2016 - present)
AWARDS AND GRANTS
University of Konstanz "Free Room for Teaching" curriculum development grant, 2019.
The German Research Foundation Cluster of Excellence grant "Politics of Inequality", 2019-2026 (one of the principal investigators).
Canada's Social Sciences and Humanities Research Council Insight grant, 2014-2017, with Andrey Stoyanov.
University of Birmingham graduate scholarship, 2003-2006.
Central European University graduate scholarship, 2001-2003.
President of Russia scholarship for study abroad, 1999-2000
Other professors
of the department
Don't miss out
on important GSOM News!
✖Programs