WatchMojo founder told students about YouTube channel launch
On November 16, one of WatchMojo founders Ashkan Karbasfrooshan told students how to run YouTube channel. The audience of WatchMojo exceeds 19 million subscribers, this project is the largest in Canada and is in the top 20 worldwide.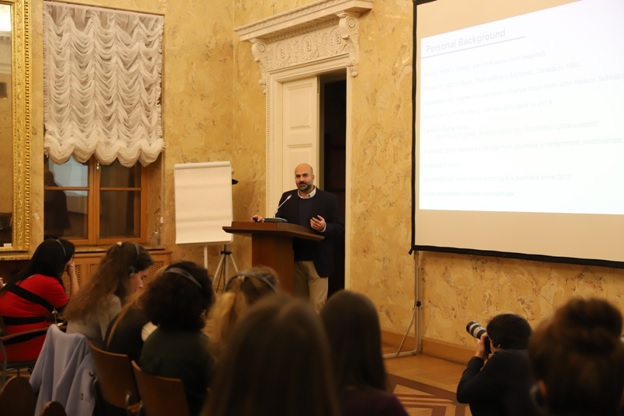 Ashkan Karbasfrooshan came up with the idea of creating videos in 2005. "I have never shot or edited a video before. I looked at the market and realized that it's impossible to compete with Fox, CBS and RT, companies that invest huge budgets in video creation. I thought I would spend all money I have on producing one video like theirs. So I decided to create a strategy for producing a large amount of good quality content," said Ashkan Karbasfrooshan.
At that time a lot of discussions were about user generated content and the influence of social media. A lot of people started to produce content as it became clear that its production and publication are becoming more and more available. So Ashkan Karbasfrooshan got an idea to create something that will be between premium and user generated content: "To build more professional new wave of media, that people are going to create, but making it seem like small media company".
Speaking about how the search for information on the Internet changed, Ashkan Karbasfrooshan said that Google used to be the main source of information. Then at some point people began to share content, for example, on Facebook, mark their friends and so the search began to occur through the exchange of experience. At the moment, one of the platforms for sharing experiences is YouTube. Now YouTube in the USA is on the path to replacing the TV, the coverage of this platform is 2 billion people.
Ashkan Karbasfrooshan also explained that everything in the Internet can be divided into three groups: content, community and commerce. Content is text, images and video. Before launching the channel, you need to look at forms of content that already exist, understand what you want to achieve, assess your capabilities and choose what will work for you. Ashkan Karbasfrooshan told that at WatchMojo they tried a lot of formats, but over time it became clear that the most popular thing on this channel is top-10 rating.
WatchMojo was launched on YouTube on January 25, 2007. Now there are more than 15 thousand videos and over 19 million subscribers. Last year, the company became international. Now WatchMojo has videos in Spanish, German, and Russian.
Ashkan Karbasfrooshan's lecture at GSOM SPbU took place within the framework of the VII St. Petersburg International Cultural Forum. During his visit to Russia businessman said that the WatchMojo team was planning to expand on the Russian market. WatchMojo Russia channel exists since August 2016 and has more than 63 thousand users.
You can the full lecture here.