Semester abroad in Ljubljana: feel sLOVEnia
During spring semester 2018 GSOM Master student Vladislav Olifirenko was studying at University of Ljubljana. Here are his advices where to live, which app to use to find fine food and what is the best way to travel.
What would be great to know before leaving
I wish I knew more about student meal system, so-called "Studenski boni" with wide variety of restaurants and cuisines. Spend the first month on visiting as many places as possible to select your favorites.
Ljubljana is a small city comparing to St. Petersburg. There is a cool bicycle infrastructure — a bike rental system, separate bike paths without prams on the way, and so on. Bike is the most popular way of transportation so when it is warm outside it is not really necessary to have a public transport monthly pass.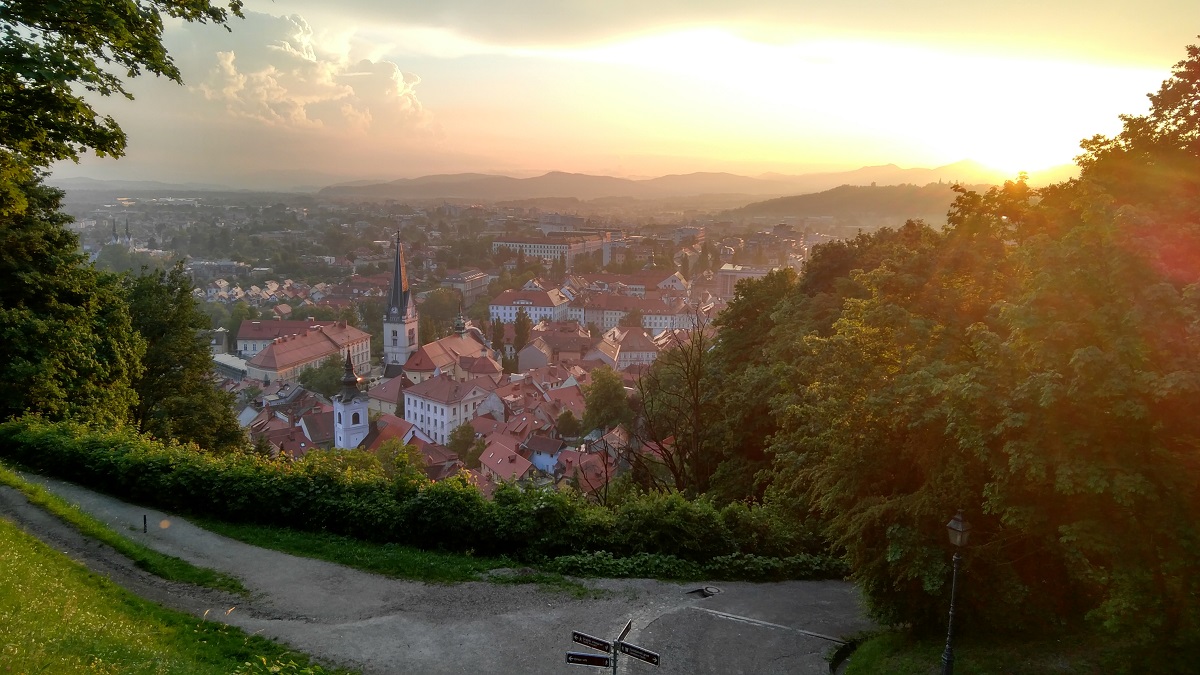 City view from Ljubljana Castle
Documents
To get into the country for exchange program, you need to get a Visa D in Slovenian embassy. The only embassy in Russia that can provide you with this type of visa is located in Moscow. The list of required documents you can find on embassy's website. Be sure to bring all necessary documents. Embassy also requests copies of international passport, national passport, insurance certificate etc. Make copies of documents in advance, because there is no copy center in the embassy.
Generally, you can receive your visa after 7-10 days. The fee is €77, cash only.
Welcome week
I was studying at the Faculty of Economics. We had 2 intro days with presentation for students about facilities, sport and other activities provided by the university. During this session we also received all the documents and information necessary for successful completion of exchange program. There were also nightclub parties organized for exchange students. In addition, you can participate in International dinner, bring some national food and drinks (even alcohol) from your country and share your culture.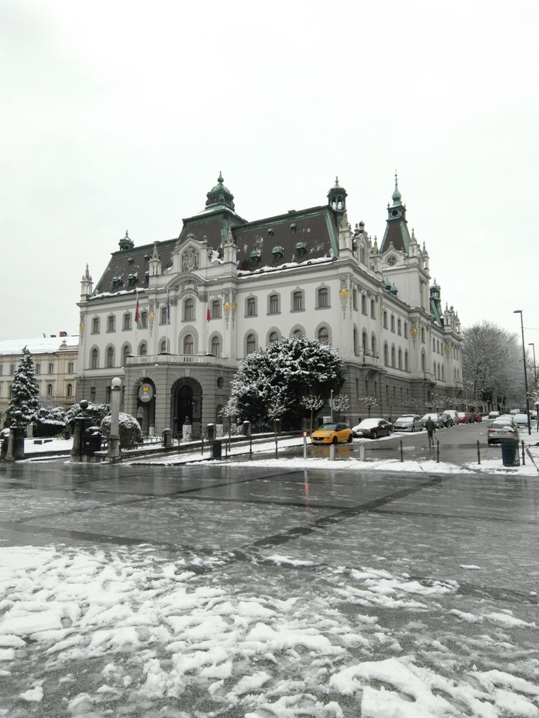 Ljubljana University main building
Culture shock
Nothing can really shock you in Slovenia if you have been in Europe before. In 2016 Ljubljana won the European Green Capital Award. So be ready to sort garbage. Requirements of sorting are very different from other EU countries.
Almost everyone in Ljubljana speaks English. Also Slovenes are really friendly, although they don't think so, and are very surprised when people tell them that they are.
University
The Faculty of Economics has its own campus. It is quite modern and nice. There are also several cafes and a very big library with a lot of separated rooms where you can meet other students for project discussions. You can book a room in advance using university's electronic system.
At Ljubljana University operates student organization called ESN, which organizes a lot of events and trips for exchange students. You will see their representatives during introduction days. Follow their emails and Facebook group and you will be aware of all interesting opportunities. Once you register as an ESN member, you get discounts for their events and trips, also you get 20% discount and free luggage for Ryanair flights.
Faculty of Economics
Place to live
Finding a dormitory is an easy process. You need to send a request to your coordinator via e-mail and then just come to student dormitory office to assign to a room. There are two places where you can live: Rozna Dolina and Bezigrad. It is better to choose Bezigrad as it is only 2 minutes away from the campus. Rozna Dolina is about 20 minutes by bus. My suggestion is to come to the office 2-3 days before your orientation days so you can get better room or share one with your friend. The dormitories are quite new and comfortable, the room is usually for two persons and there are shared kitchen and bathroom for two rooms.
Bezigrad dormitories have their own laundry service in a basement and a gym. Rooms have enough furniture and there is enough space for your stuff. Wi-Fi is also provided by the dorm service and all the fees are included in your monthly payment.
In dormitories a lot of parties are organized. To my mind it is the best way to find new friends especially in the beginning.
As for private housing you can find it using ERASMUS student groups on Facebook. Be ready that it might take some time to find a proper accommodation.
Studies
The list of courses at Ljubljana University was wide both for bachelor and master students. "First-come, first served" is the way to choose courses via electronic system of the Faculty. The list of classes is sent in advance so be ready to choose your courses as soon as the registration is open. If you are a master student, you can choose both bachelor and master courses.
The main objective you can face is course overlapping. It could happen when you take both bachelor and master courses. The Faculty gives you two weeks for making changes in your class list. Bachelor courses usually weight 6 ECTS and masters — 7-10 ECTS.
The exam schedule is usually announced during the first two weeks, so you can plan your time in advance. It is obligatory to register for an exam at least 5 days before. You have at least two attempts to pass it, but it is not like a re-take. There are two dates for the same exam: you can choose any date that is more convenient for you. That is why you should register for an exam. In case you are not satisfied with your grade after the first attempt, you can register for the second one. Some courses are intensive and you can have an exam after a month or two of studying. The study process is not as intensive as at GSOM so you have enough time for travelling and enjoy your free time.
Money
€150-200 — dormitory
€170-300 — room in an apartment
€20 — University fee for the whole semester for sport activities
€20 — student transportation card. You can use it for all buses as many times as you need. With this card, you can also register for public bicycles (additional €3 per year) for free rides up to 1 hour. I suggest to use "Bicikel" app to see the status of bike stations (vacant bikes/spaces). Taxi is quite cheap, up to €4-5 per ride.
€3-10 — entrance fee to night clubs. However there are a lot of parties organized by student organizations, much cheaper or even free.
€10 — mobile connection. You can buy SIM-card in any Hofer supermarket for €2. I suggest to use HoT as mobile operator, because they provide the cheapest service: 20Gb per month with unlimited calls and messages for only €10.
They also have useful mobile app Moj HoT.
As for food, the government provides students with 20-22 (depends on a number of working days) coupons per month. With this coupons, you can have lunch in different cafes and restaurants all over Slovenia for only €0-4,5. To try more restaurants I suggest using NaBon application with the map and the list of all the restaurants – participants of the program. In general, food expenses (including lunches in cafes) are about €150-200 per month.
Travel
I strongly recommend rent a car with someone and travel around. Venice is only 3 hours away, Croatian seaside is about 3-4 hours away. I also suggest traveling around Slovenia and other former Yugoslavian republics. Slovenia is a small country, but it has several completely different zones: mountains in the north, Adriatic Sea in the west, forests and mineral springs.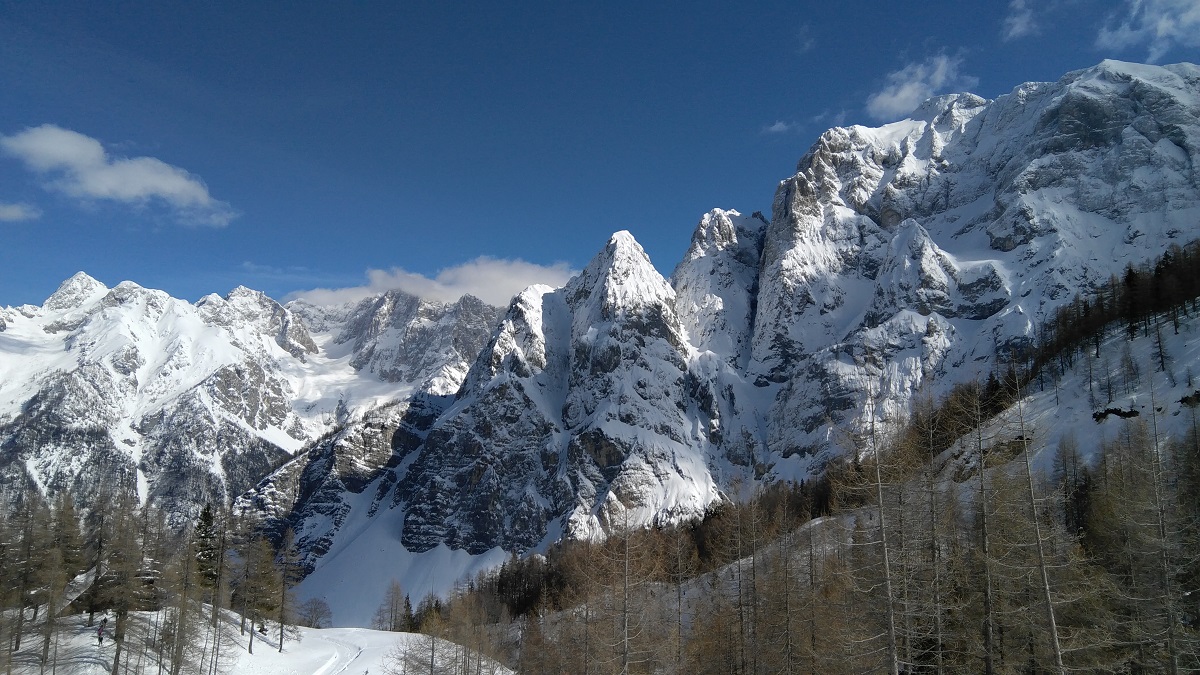 Triglav national park (Slovenian Alps)