Debates "PPP in the Field of Roads"

Organizers: Center for Public-Private Partnership Studies of Graduate School of Management, St. Petersburg State University
Date of event: October 15, 2015, 16.45-18.15
Place: St. Petersburg, Sankt-Peterburgskoye shosse, 109 (Mikhailovskaya Dacha Campus)
Moderators:
Svetlana Maslova (Head of the Center for PPP Studies GSOM SPbU, Associate Professor, Department of Public Administration, SPbU , Russia)
Debates "PPP in the Field of Airports" that had the format of discussion on questions suggested was held on October, 15 at the International Research Conference "GSOM Emerging Markets Conference: Business and Government Perspectives". The main subject of PPP debates was devoted to the development of International PPP standards that was predetermined by several main reasons. Firstly, international PPP expert community recognized the need to create clear and transparent guide for governments on use of PPP mechanisms, the basis of which is International PPP standards. Therein, UNECE created institutional environment for development of standards – Team of Specialists on PPP, International PPP Center of Excellence, Project Teams and PPP Specialist Centers in different countries, responsible for development of standards in different spheres. Secondly, Center for PPP Studies GSOM SPbU is one of the UNECE PPP Specialist Centers on development of standards in the field of transport, and the head of the center Svetlana Maslova is a member of UNECE Project Teams. Thirdly, international PPP experts were invited to participate to assist Russian experts - Athena Roumboutsos, Professor of University of the Aegean (Greece); Rosário Macário, Professor of Lisbon Technical University (Portugal) and Felix Villalba-Romero, Researcher of University of Central Lancashire (UK). Guest of honor was also a Professor of technology and innovation management at Imperial College Business School James Barlow.
Russian PPP experts at the PPP debates were presented by the members of academic, government and business communities: Ludmila Galenskaya (Doctor of law, professor, Law Faculty SPbU), Andrey Ivanov (Ph.D., associate professor, GSOM SPbU), Diana Zhmulina (Ph.D., Law faculty SPbU), Andrey Yushkov (research fellow, Leontief Center) and Sofia Gromova (master student, GSOM SPbU), Dmitry Yalov (vice-governor of Leningrad Region, Chairman of Committee for Economic Development and Investment Activity of Leningrad Region), Ekaterina Afonina, Victoria Larionova (Committee for Economic Development and Investment Activity of Leningrad Region), Roman Golovanov (Investment Committee of Saint-Petersburg), Kirill Polyakov, Valentin Enokaev, Olga Potiforova, Elvira Kovalchuk (ANO "Directorate for Development of the St.Petersburg and Leningrad Region Transport System"), Konstantin Popov (GK "Rosavtodor"), Andrey Beloborodov (FKU "Russian Roads"), Victor Afonin (GUP "Vodokanal"), Ivan Potekhin (Gazprombank), Oleg Lyskov (Musin, Ibragimov and Partners), Artem Kushnarev (Smart Processing), Margarita Belyaeva and Yulia Antipova (Northern Capital Gateway), Andrey Filimonov (Project Management Agency), Pavel Karpunin (Capital Legal Services), Andrey Antonovsky (VTB Capital) and Vladimir Kilinkarov (Maxima Legal).
The PPP debate was on more than ten questions related to International PPP Standards, the majority of which had the proposed variant of answers. Opportunity to know the opinion of each expert at PPP debates and to display the result of voting on the screen has appeared because of the use of system of interactive anonymous voting.
As can be seen in the statistics of answers below, experts' opinions on the possibility of development and implementation of International PPP standards are divided almost equally, that, as it turned out in the following discussion, caused by doubts of Russian practitioners on these standards, but firm conviction of representatives of academic community. It also should be mentioned, that almost all participants of the discussion agreed that International PPP standards should not have the binding character and there is necessary adaptation and political support for its application in a certain country.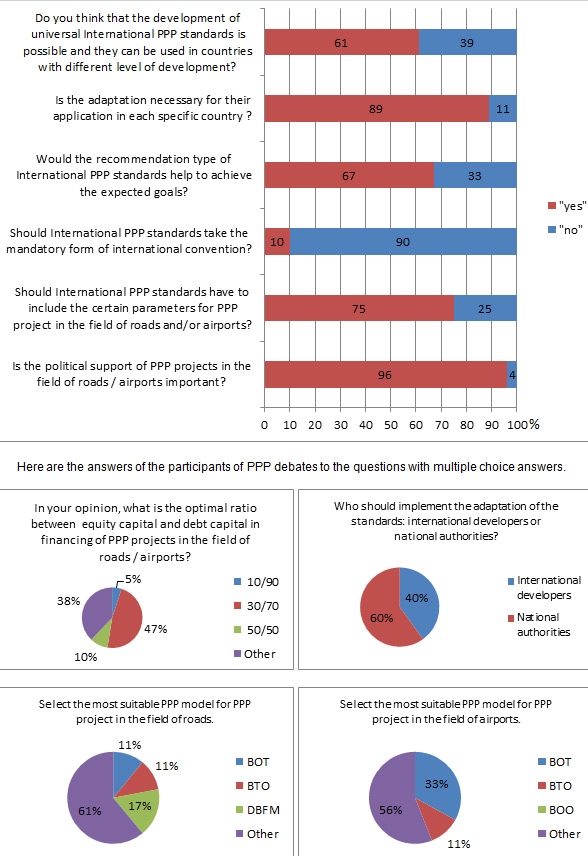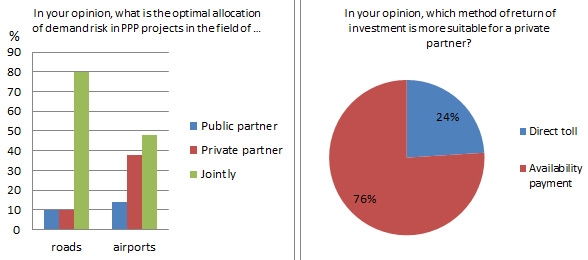 The diagrams clearly demonstrated the distributions of the experts' opinions on questions. Moreover, some questions caused dissonance among the participants; so many experts wanted to express their opinions directly, argue against the views of other participants and debate on a particular question.
It is important to emphasize that answers on the questions about the most appropriate PPP models in the field of transport, optimal risks allocation and ratio between equity and debt capital in PPP financing, methods of return of investment underpin the emerging International PPP standards in any sector. The results of expert discussion showed that thought thrives in conflict (in our case – constructive conflict). This time, the thought is that the International PPP standards can be developed and applied throughout the world. After all, many experts could agree on proposed questions, despite the fact that they are the representatives of different sectors (state or government), different projects and countries.