Department of Public Administration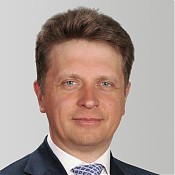 Department Head
Candidate of Science (Economics)

| | |
| --- | --- |
| | Courses taught |
Hospital Management (Presidential Program)
Public-Private Partnerships (Bachelor Program)
Public-Private Partnerships in Healthcare (Presidential Program)
Public Finance (Bachelor Program)
Public Procurement in Healthcare (Presidential Program)
History of Economic Policy and Public Administration (Bachelor Program)
Quality Management in Health Care (Presidential Program)
Communication Management in the Organization of the Social Sector (Presidential Program)
Places management and Development (Bachelor Program)
Health Care System Management (Presidential Program)
Business-Government Relations (MIB, MITIM, MCF)
Econometrica-1 (Doctoral Program)
E-government (Bachelor Program)
Financial & Managerial Accounting (DDEMBA)
International Economics (MIB, MITIM)
Managerial Accounting (MIB)
Performance Management (DDEMBA)
Quantitative Methods in Finance (MCF)
Institutional Economics (Bachelor Program)
Microeconomics (Bachelor Program)
Taxation (Bachelor Program)
Public Administration System (Bachelor Program)
Managerial Economics (MIB, Presidential Program)
Public Sector Economics (Bachelor Program)
Economic History (Bachelor Program)

| | |
| --- | --- |
| | Books and Textbooks |
I. Baranov Regional and Municipal Finance. St. Petersburg: Leontief Center, 2008 (co-authored with A.Batchaev, N.Zhunda, A.Zaostrovtsev et al).
I. Baranov Course in the Public Sector Financial Planning (for public finance professionals). St. Petersburg: Leontief Center, 2004 (co-authored with E. Pshennikova).
N. Drozdova Topical Issues of Modern Economic Theory: Evolutionary and Neoinstitutional Approaches. Textbook. SPb., 2004.
A. Ivanov Mathematical Modeling of Consumers Preferences. – St. Petersburg, ICE, 2003.
A. Golubeva, O. Patokina Development of educational programs in e-government: trends, challenges and Russian experience // One Stop Europe 2009 - Electronic Public Management, Alcatel-Lucent Stiftung, 2010. Pp.38-45.
T. Sklyar Health Care Economics and Management, St.Petersburg State University Publishing House, 2004.

| | |
| --- | --- |
| | Articles |
The articles of faculty of the Department were published in leading Russian journals in the field of management and economics:
"Russian Management Journal"
"Vestnik of SPBU (Management Series)"
" Problems of Economics"
"Economic Science in Contemporary Russia"
"Healthcare Manager"
"Goszakaz"
and in international journals:
Information policy
Journal of Finance Case Research
Russian and European Finance and Trade