Elena V. Orlova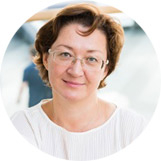 Courses
"Business Communication Skills Seminar: Crisis communication. Communication for better ethics decision-making" (CEMS MIM, GSOM SPbU)
Communication for Research Purposes (Doctoral Program, GSOM SPbU)
Manager Professional Skills: business correspondence, pitching, presentation skills. Public speaking: anxiety and fears, persuasion techniques (Master program, GSOM SPbU)
English for Business and Management, Executive Program, GSOM SPbU
Associate Professor,
Head of Languages for Academic and Business Communication Department
E-mail: orlova@gsom.spbu.ru, e.v.orlova@spbu.ru
EDUCATION AND ACADEMIC DEGREES
Candidate of science, social psychology SPbU, 1992.
Specialist Degree in Philology, Far-Eastern State University, 1987.
RESEARCH INTERESTS
Philology
linguistics
social psychology
cognitive psychology
business communication
crisis communication
business ethics
research ethics
SELECTED PAPERS AND PUBLICATIONS
Efficient Communication for Research Purposes: Newest Trends in Designing English Language and Communication Courses for Graduate Students // Университетский научный журнал Humanities & Science University Journal. Филологические и исторические науки, искусствоведение. № 12 (2015): научный журнал / Санкт-Петербургский университетский консорциум. — СПб., 2015. – С.171-179.
Communication Skills Acquisition at Business School: Academic and Professional Needs Analysis for Communication Skills Programmes Development // «Филологические науки. Вопросы теории и практики». №5 (59) Часть 1/2016. (в соавторстве с Мартыновой Т.А., Гоман Ю.В., Заруцкой Е.В., Рыбиной Т.Н.)
Orlova E., Martynova T. Modeling Language and Communication Skills Program Evaluation at Business School: Focus on the Best Practices. GSOM Emerging Markets Conference 2016 International Conference. Graduate School of Management, Saint Petersburg University.
Orlova E. V., Martynova T. A., Zhukova K. V., Pleshkova A. Yu. Language and Communication Teaching at Business School: New Perspectives., 2017, Issue 2.
INTERNSHIP ABROAD
July 2015, Professional Communication Bootcamp, Massachusetts Institute of Technology
December 2016, «Art and Business», Stockholm
July 2017, International summer school «Change Management in Education", Baku, Azerbaijan
CONFERENCES
The 12th GEM&L International Workshop on The impact of language on knowledge creating and sharing, FNEGE conference, Paris, May, 2018
GSOM Emerging Market Conference, St. Petersburg, Russia, October, 2015.
ХХI NATE-RUSSIA INTERNATIONAL CONFERENCE, Ekaterinburg, Russia, 15-18 April, 2015
GSOM Emerging Market Conference, St. Petersburg, Russia, October, 2016.
«New perspectives on the status and function of language and/or communication teaching in a business school», Language Symposium, CEMS Annual Meeting, Stockholm
GSOM Emerging Market Conference, St. Petersburg, Russia, October, 2017.
CONSULTATIVE ACTIVITY
Provides consultative services to Staff Standard an HR consulting and executive search company since 1994.
OTHER PROFESSIONAL ACTIVITY
Membership in Professional Associations
GEM&L Group
Member of the Languages for Business Communication Group, CEMS
Member of Language Proximity Group, CEMS
Member of The Association for Business Communication (ABC), an international, interdisciplinary organization committed to advancing business communication research, education, and practice.
Annual International Research Conference "GSOM Emerging Markets Conference"
Language and Communication Track, track chair
Courses
"Business Communication Skills Seminar: Crisis communication. Communication for better ethics decision-making" (CEMS MIM, GSOM SPbU)
Communication for Research Purposes (Doctoral Program, GSOM SPbU)
Manager Professional Skills: business correspondence, pitching, presentation skills. Public speaking: anxiety and fears, persuasion techniques (Master program, GSOM SPbU)
English for Business and Management, Executive Program, GSOM SPbU