Maria V. Fattakhova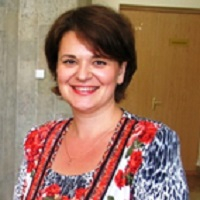 Courses
Guest Lecturer
E-mail: mvfa@yandex.ru
EDUCATION
Degree in Applied mathematics, St. Petersburg State University, Faculty of Applied Mathematics and Control Processes, 1995
Candidate of science, Dissertation on "Nash equilibrium in a voting game", SPbU, 1998
Associate Professor, Department of Mathematics, SPbU, 2005
RESEARCH INTERESTS
The game theory, operations research.
SELECTED PAPERS AND PUBLICATIONS
Game theoretic model of the board election /International Journal of Mathematics, Game Theory and Algebra. – 1998. – Vol. 7, No. 2/3.
PAPERS AT INTERNATIONAL CONFERENCES
Winning coalitional partition in voting games. XII International Conference on Game Theory and Applications – Genova, 1998.
Dynamic games with random duration and uncertain payoffs. V International Petrozavodsk Conference. Petrozavodsk, 2000.
About one new solution for simple game. II international conference on Actual problems of economy and new technologies of teaching (Smirnov's Readings): SPb, MBI, 2003
INTERNSHIP ABROAD
South Korea, Seoul, Korea University; lectures on the course "Theory of Games", 1996-1997.
Courses