Olga M. Udovichenko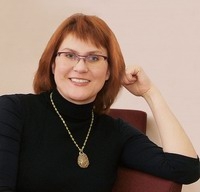 Courses
Management Accounting (EMBA program)
Financial Accounting (EMBA program)
Financial Accounting and Reporting (Master in Corporate Finance program)
Management Accounting (Master in Corporate Finance program)
Corporate Governance and Value Based Management (EMBA program)
Guest Lecturer
E-mail: olga.udovichenko@gsom.spbu.ru
EDUCATION AND ACADEMIC DEGREES
Health Sector Management Certificate Program, Fuqua Business School, Duke University (USA), 2011-2013
Global Executive MBA, Fuqua Business School, Duke University (USA), 2009-2010
International Teaching Program, SDA Bocconi School of Management, Milan, Italy, 2007-2008 Summer School in London School of Economics and Political Science, London, GB, 2007
Candidate of Science (Economics), St. Petersburg State University, 2005
Doctoral program, SOM, St.Petersburg State University 1999-2003
Certificate of Auditor Center of Auditing Training, 1995
Retraining Degree program in Financial Management, SOM, St.Petersburg State University 1995;
M.Sc. in Radiophysics, Leningrad Politechnical Institute, 1984
RESEARCH
Performance Management
Intangible Assets
Budgeting
Internal Auditing and Control
SELECTED PAPERS AND PUBLICATIONS (TOTAL — 15)
Books, Monographs and Textbooks
Management Accounting. St.-Petersburg: GSOM, SPbSU, 2012 (with E.Nikulin)
Final Attestation Paper: Methodical guidance for Executive MBA program' students. Saint-Petersburg: SOM, SPbSU, 2007 (with I. Gladkikh)
Papers in Academic Journals
Educational Programs in Health Care Management // Vestnik of Saint-Petersburg State University, Vol.2, Management, 2012.
"Profitable – Non-Profitable". Product Line Segments' Reporting (Case Study) // Vestnik of Saint-Petersburg State University. 2010. Vol.2, Management. pp.162-175.
"Capital Contribution to the Business Value Creation". Co-authors: Berezinets I.V., Sysolyatina E.V. ». // Electronic Journal "Corporate Finance". 2010. №3 (15). pp.5-22.
Functioning of Internal Audit and Internal Control System in information economy environment // Vestnik of Saint-Petersburg State University. 2005. Vol.2, Management. pp.73-89.
Changing of Role of Internal Auditing in the Circumstances of Information Technologies and Internet Development // Eurasian International Research and Analytical Journal "Problemi Sovremennoi Economici" 2005. -' 2.
Papers in Professional Journals
Seven questions about Executive MBA // Nashi Dengi.2007.#10. pp.65
Cases
Swedish-Russian Group of Companies: Managing Business Lines' Accounts. The European Case Clearing House (ECCH). 2007. № 107-071-1.
Pricing Storage Services via Activity-Based Costing. The CRO-Russia Company. The European Case Clearing House (ECCH). 2007. № 107-069-1.
General Budgeting in Major Transportation Company. Transsel Company. The European Case Clearing House (ECCH). 2007. № 107-072-1
INTERNSHIPS ABROAD
Center for technological innovations (VTT), Helsinki (Finland), 2007
European Entrepreneurship Colloquium for Participant-Centered Learning, Harvard Business School, Harvard University; (USA), 2006)
Haas School of Business. University of California, Berkeley, (USA); 2006, 2000, 1998, 1997
Schulich School of Business. York University, Toronto, (Canada) 2000
Program for SOM SPbSU faculty at Swedish management institute (IFL) and ABB company (Sweden), 1999
Mitsubishi Research Institute, Tokyo, (Japan), 1998
HONORS AND AWARDS
Certificate of honor of the Ministry for education and science of Russian Federation, 2009
Personal research grant of the Open society Institute for "MBA for non-profit organizations" program curriculum development, 1999-2001
OTHER PROFESSIONAL ACTIVITIES
Member of the Board of Directors, power engineering holding OJSC Novaem;
The Russia/CIS Regional Advisory Board Member, Duke University's Fuqua School of Business;
Visiting faculty at Executive MBA programs of Moscow school of management "Skolkovo" and Stockholm school of Economics in St. Petersburg;
General Director, "Proficon" Auditing Company, 1995-2013;
Member of Academic council of Graduate school of management, SPbSU, 2007-2010;
Editorial: Financial management. New English-Russian dictionary (co-editor). SPb, Economic school, 2004;
Head of several consulting and corporate training projects in the area of financial and management accounting, budgeting, local consultant of the World Bank projects «Water and Sewer Sector Study», 1995–1996, Center City Rehabilitation, 1997;
Consulting and education projects for the companies: FGUP "Pulkovo Airport", "Western Speed Diameter", "Power Machines", "Klimov", Eurosib, Marvel, Ilim Timber, Rosneft, Lenenergo.
Courses
Management Accounting (EMBA program)
Financial Accounting (EMBA program)
Financial Accounting and Reporting (Master in Corporate Finance program)
Management Accounting (Master in Corporate Finance program)
Corporate Governance and Value Based Management (EMBA program)