Andrey L. Kostin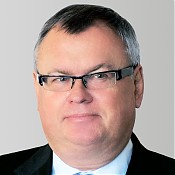 Director General, Graduate School of Management, St. Petersburg University
Professor, Department of Finance and Accounting
E-mail: kostin@gsom.spbu.ru
EDUCATION AND ACADEMIC DEGREES
2001, Candidate of Science in Economics, Financial Academy under the Government of the Russian Federation
1979, Specialist Degree (with distinction), Department of Economics, Moscow State University
HONORS AND AWARDS
Аwarded with the Orders of Merit for the Fatherland III, IV degree, the Medal of Honor and the Order of Merit (France).
OTHER PROFESSIONAL ACTIVITIES
2012 - present. Professor, Department of Finance and Accounting, St. Petersburg University Graduate School of Management.

2002 - present. President and Chairman of the Management Board, Member of the Supervisory Council, VTB Bank.
1996 - 2002. Chairman, Vnesheconombank.
1995 - 1996. First Deputy Chairman, National Reserve Bank.
Diplomatic service:
1979-1982 – in the USSR Consulate General in Australia;
1985-1990 – in the USSR Embassy in Great Britain.