Digital Economy and Digital Business

Track chair: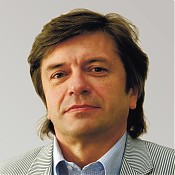 GSOM SPbU
E-mail: yablonsky@gsom.spbu.ru
The Digital Economy and Digital Business track provides a lively and friendly forum for academics, practitioners and policy makers to present and discuss their latest findings in Digital Business, Digital Transformation and Digital Innovation management.
Areas of particular interest include, but are not limited to:
digital economy in the country, region and global context
digital strategy and digital business models
digital transformation, adoption, acceptance and diffusion of digital innovations
big data, open data, data analytics, data science, virtual reality, augmented reality and artificial intelligence innovations
digital business
digital commerce and digital retail
digital marketing, digital consumer behaviour, CRM
digital supply chain management and logistics
social media and computer-mediated communications
m-commerce and other mobile-based technologies
digital government, digital public services, digital health
Industry 4.0, smart cities, smart homes, smart manufacturing and smart government
Bitcoin or other applications of Blockchain and digital currencies
Multi- and inter-disciplinary papers are welcome. Both empirically and conceptually based papers are welcome.