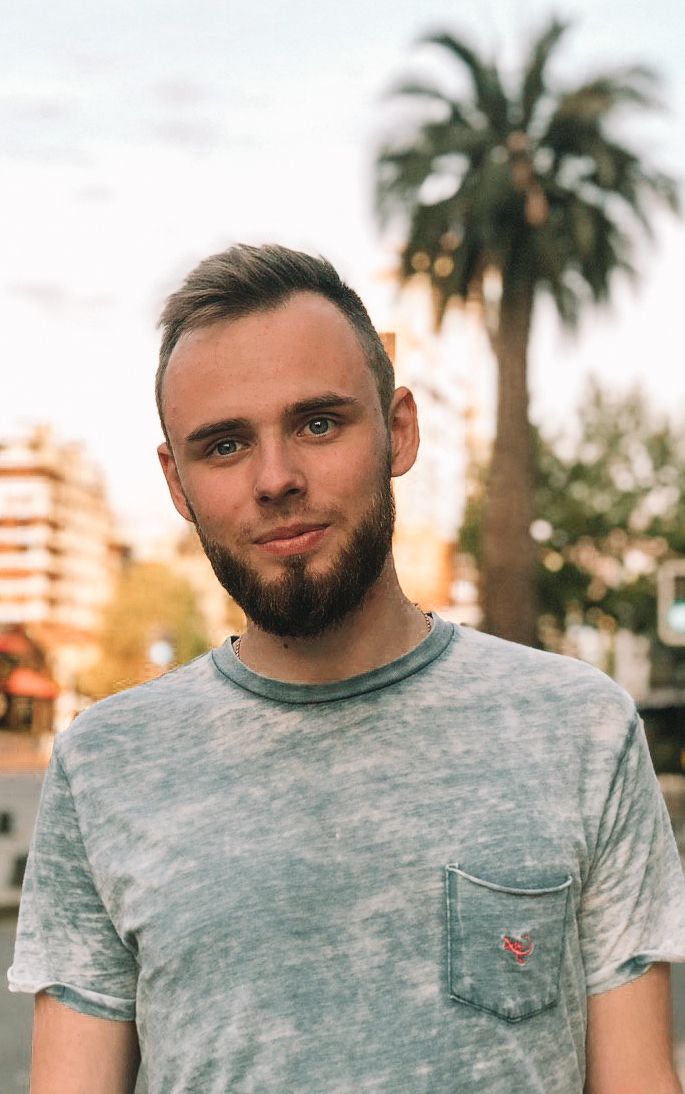 Denis Lapshin, an alumnus of the Master in Management program in 2020, a member of the CEMS program, during his studies, attended an exchange at the University of Adolfo Ibáñez in Santiago, the capital of Chile. In the interview, he talked about life in Chile, the university and its infrastructure and gave some advice to students who are just going for an exchange.
What is important to know before traveling?
About prices! There is a stereotype that South America is super cheap. It is only partially true. Go to supermarket sites, see ticket prices, all the basic information. There are special sites like traveltables.com.
So it will be much easier to avoid situations where you really want to go somewhere, but there is not enough money. And in Chile it is better to go somewhere more often!
Well, learn a few words in Spanish, too, of course. With zero knowledge of Spanish, the chance to have a cool and interesting experience will be lower.
What documents / certificates are needed?
To apply for a visa you need to have an insurance, a medical certificate in the form of 082-y, a certificate of no criminal record with an apostille. Registration of all documents can take up to one and a half months, so I do not advise you to delay — especially with a certificate of no criminal record, it takes a lot time to form it.
In theory, I know people who came to Chile without a student visa and lived for six months without any problems, although tourists without a visa can only 90 days. And by law it is forbidden to violate the rules of visiting the country. But, firstly, the fact that it worked with someone does not mean that it will work with you, and secondly, you lose the cool ID card with the Chilean flag, which will delight you for many years after the trip.
How was your welcome week?
In Chile there is no (or was not) a buddy-program in the usual sense. At the university, in the first week you are prompted in many ways, even fed with delicious South American dishes right in the dining room, but this does not go beyond the limits of the university itself.
In fairness I can't say that this created some difficulties. I quickly adapted to the new circumstances.
But CEMS club organized cool trips, we had them constantly. The first one will generally be remembered for a long time — for two days we lived in a house near the ocean, where everyone got to know each other better and made great friends.
CEMS students
What do you understand about Chile and its inhabitants? Was there a cultural shock / personal insight on this topic? What did you like and dislike about communicating with the locals?
Firstly, you have to get used to and love reggaeton — the most popular music in all of South America. It plays at all parties, in all cafes and restaurants, in every car.
Secondly, to the weird party schedule. The most traditional day for them is Wednesday, and nobody cares what time you get up on Thursday. In the best case, you will be released at 1-2 nights — if you wake up at 6.
Thirdly, Chileans unusually plan things for early time and get up early too. An alarm clock for more than 6 is a normal thing (consider it lucky yet).
Fourth, you will like it all.
Tell us about the infrastructure of the university where you studied, the organization of communication with students.
The university is located in the mountains on the outskirts of the city, but they organize convenient buses from the Grecia and Los Dominicos metro stations. You will be able to choose which one is more convenient for you. The journey takes about an hour. And almost all locals have a car: surely you will drive back, since the guys are always friendly and offer to throw you to where you need to.
The university, in general, is quite convenient: there are places to work alone during the windows on a schedule or for a group project, several cafes of different levels - somewhere just coffee and Chilean empanada pies, somewhere you can take a ready-made poke bowl. A microwave, if you prefer to carry food with you, is also there.
The university has a convenient online system for students: corporate mail, a website with grades and an analogue of our BlackBoard — webcursos.
What is the situation with housing for exchanger? Are there hostels from the University? Is it easy to find a rental room or apartment?
There are no dormitories in the University. You need to look for apartment on your own. The most simple way is to rent an apartment on Airbnb for a couple of weeks and actively walk around, look for permanent housing at this time. Local guys will tell you sites. I can immediately outline the areas where it is better to rent — Providencia (mostly private houses, you can pick up one bedroom) and Las Condes (mostly skyscrapers). You can rent an apartment together with other exchanger for 3-4 people — it will come out much cheaper.
Tell us about studying: was it difficult? Were there many new courses?
Studying is not the easiest, but also not overly complicated. You will be required to attend classes, be active during each lesson, you will write a lot of essays and studies — there they are more popular than any tests. But if you take this responsibly, you will have enough time for travelling too.

For those who are going to go to Chile for an exchange semester, tell us how much on average do they need money for a living?
Housing costs about 30 thousand rubles a month.
Food prices in supermarkets are on average 10-20 percent more expensive than in Russia (there is something cheaper, and something is much more expensive), in a cafe you could have lunch for 500 rubles, especially if you do not know good cheap places.
Transport costs about 80 rubles per trip without a student pass.
For tickets, if you don't take it in advance, give about 15-20 thousand (Brazil, Argentina, etc.). Everything else is highly dependent on the country where you are going. Chile is an expensive country, Brazil is above average, Argentina at the time of my trip was very cheap, but check the rates, everything there can change in a month.
In total, you will need about 500 thousand rubles if you want to spend time actively with traveling, delicious food and lots of entertainment.
What did you visit during the exchange semester?
Traveling is an integral part of any trip to Chile. You can go to major cities — Buenos Aires, Rio de Janeiro, São Paulo, and visit nature places such as Atacama Desert, Iguazu Falls, Machu Picchu, etc.
I highly recommend going to Brazil and visiting Rio de Janeiro and Sao Paulo on the same trip. They are nearby and very different. Although Rio is a more tourist and resort city, you will definitely remember the very unusual atmosphere of a giant metropolis in Sao Paulo. A bunch of helicopters, arrogant pedestrians and endless houses for 20 minutes when approaching the city. Guarulhos Airport is generally a miracle of the world, it is located right in the center of the city. It looks very surreal. In Rio, Santos Dumont Airport is no less interesting.
Chileans have a festive week in mid-September, and you can look for tickets for these days. But even if you stay, you will get an excellent experience of celebrating the main Chilean holiday right in the capital.
What is the most memorable exchange?
South America is a completely different world with other people, culture, music and features. Whatever you do there, believe me, this trip will divide your life into before and after.
Most of all I will miss the relaxed atmosphere, wonderful people, good (albeit specific) music and an ideal climate. Although in the mornings in September it's very cold!