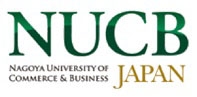 Nagoya University of Commerce and Business (NUCB) was founded in 1953, and has grown into one of the premier business schools in Japan.
Its mission is to provide a high-quality education in order to develop leaders and entrepreneurs with a 'Frontier Spirit' and a global perspective, and the ability to contribute positively to the business community. The university endeavors to meet the challenges of globalization and to maintain a competitive edge by providing outstanding programs in management education, and opportunities in the global arena.
Main figures:
100% of core faculty members in graduate school with doctral or master's degree
80 English-taught courses in undergraduate and graduate school
100 partners in 46 countries
72% of partner schools with international accreditation.
Accreditations and Recognition
NUCB has been recognized as one of the world's top business schools with an international reputation.
NGS programs have been ranked among top in East Asia by Eduniversal's "Best Masters Ranking 2015".
In 2002, Nagoya University of Commerce & Business acquired AACSB International membership as only the third educational institution in Japan. NUCB has achieved accreditation of its undergraduate and graduate programs in 2006 and successfully maintained it in 2011.
NUCB Graduate School is the only Japanese business school accredited by AMBA.
Resources & Facilities
While NUCB is based in Greater Nagoya district, its graduate school campuses including two satellites are located in the heart of the three major cosmopolitan cities in Japan; Nagoya, Tokyo, and Osaka.
The fully furnished, single-occupancy international student dorm rooms create a comfortable living environment.
Located in downtown Nagoya, the dormitory has a convenient 24/7 independent access and is 3 minutes walk to the nearest station, 2 stations to campus by subway. Easy access to the main shopping and leisures areas.
The urban-based environment provides students with the opportunity to observe how Japanese business practices combine tradition with innovation.
web-site: http://www.nucba.ac.jp/en/