Semester abroad in Dublin: sarcastic people and ancient campus
GSOM student Anastasia Besova spent fall semester of 2017 in Trinity college, one of the oldest educational institutions in Ireland. How to get visa? Where to live? What to do in Dublin? Here is Anastasia's advice for those who are going to Ireland.
What would be great to know before leaving
It would be great to know that everything is going to be fine in the end, no matter whether you stress about it or not. So, it's better not to. Stay calm and positive, don't expect anything, everything will be better than you expect!
Documents
Ireland visa can only be acquired in Moscow, so I applied for it via special agency. Their fee was around 4,000 rubles and they gave me all the information needed, sent my documents to the embassy and received back. However, I highly recommend risking it and doing it yourself, as some of my friends did. It's not that difficult and will save you money. Everyone who applied for visa by themselves got it.
Please note that there is a short-term and long-term student visa. Short-term visa is given for 90 days, and according to the university invitation, this is sufficient amount of time. We spent exactly 90 days in Ireland. Multi-visa is more expensive. So if you received a single-entrance visa, you can only enter Ireland once. But, believe me, there's so much to do and see that there is absolutely no need to leave.
Welcome week
I didn't participate in the paid intro week due to the unrealistic cost. It was €1825. However, for those who don't want to spend so much money, there is a Society Week. It was quite intense and full of different activities organized by the university societies. Societies and different clubs are popular in Trinity college. You can join any club or society. It costs €2-5 and you can choose from different sport clubs (yachting, surfing or boating) or enter some of the ancient societies like Law or Phil.
Clubs and societies organize a lot of events including nights out, master classes, balls, free dinners etc. To keep up with all the events you should follow clubs that interest you on Facebook.
Culture shock
After listening to stories about the high standard of living in Ireland, I didn't expect to see so many homeless people, they are literally on every street corner. Also I discovered that drivers don't care aboutroad signs and pedestrians. You can cross the street wherever you want but it is important to look around before crossing. However to my mind the most shocking were Irish people. I think they are similar to Russians and Americans: very friendly and easy going but sarcastic and meditative.
University
Trinity college has ahuge campus with everything you need: 24/7 library, several cafes and canteens, pub (important), sport centers and so on.
Historic campus of Trinity college exits for several centuries so there are not only students but also a lot of tourists. Especially in the most ancient buildings like, for example the library where Ireland's greatest cultural treasure Book of Kells is kept.
Place to live
Trinity provides student accommodation starting from €115 per week. It is a new fashionable building with excellent conditions, where you will have your own room and shower / toilet, as well as a shared kitchen for 4-6 people. This place is called Binary Hub and is located 20-30 minutes walk from the campus.
Also you can rent a room or an apartment. We found accommodation on daft.ie and rented a private apartment for 4 people. There is an estate crisis in Ireland, so the rent will be huge and there probably won't be a lot of options. For a two-room apartment we paid € 2,700 a month, and we were lucky, because it was located in the very city center just in front of the college. So I recommend starting your search as soon as possible.
Studies
There were not a lot of courses to choose from, especially for marketing students. For those who study finance there are more subjects. The courses were mostly a bit chatty and general, involving a lot of interaction with students.
It was easy to study in Trinity college, there were usually one or two classes a day only. Most of them involve a lot of self-work. There are almost no deadlines, unlike in GSOM. The attendance of the lectures and most seminars is not taken into account.
Exam system is totally different from GSOM as there is no winter exam session and instead of exams we had essays or group projects. Overall, I had to write about 5 essays in the end of the semester. The deadlines were all during the last study week, so I had to organize myself in order to write the essays in advance. It was quite challenging.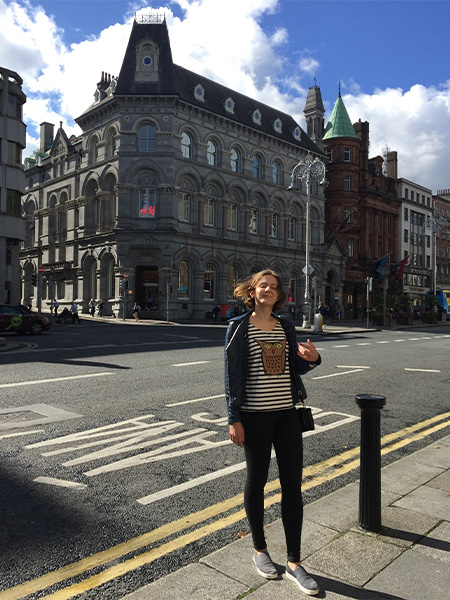 Money
Dublin is one of the most expensive European cities, so everything is three times more expensive than in St. Petersburg, especially the rent and transportation. The groceries were quite okay, though, if you buy in bulk and share with other people. You can eat in student cafes where they give you a discount or eat burritos (€5-7) which are very popular among local people.
A cup of cappuccino was €3. Most nightclubs had paid entrance, which was € 5-10. A pint of Guinness from the tap — € 5.
Best practices you would recommend to implement at GSOM
In Trinity College professors encourage students to share their opinions rather than do some technical job. Creative approach and non-standard thinking are very supported. Also all the essays we wrote were based on critical thinking, not just doing the research.