Semester abroad in St. Gallen: course Bidding and job offer
GSOM Master student Daria Shchurik spent a semester abroad in University of St. Gallen (HSG). Thanks to studying abroad, Daria got an offer in consulting in Germany. Here is her story and some advice.
Place to live
Accommodation is the main problem in Switzerland for two reasons: firstly, St. Gallen is a very small city, and secondly, Switzerland is a very expensive country. If you enroll in HSG, you will have two options where to live: dorm or apartment. The notification to apply for a room at the dorm comes in spring and deadlines are hard there, application period ends in May. I do not advise to choose this option, because, in my opinion, the prices are too high for a room in a dormitory (600-800 ₣), the conditions are mediocre, and the location is not very convenient, it takes 20-30 minutes if go by walk.
Almost all my friends, both Russians and Europeans, were looking for a place to stay by themselves. Usually, everyone rents a room in a shared flat and live with other students. This is not the easiest way, but you can find an excellent room in a large, bright apartment for only 300-500 ₣ per month. Moreover, you can choose location:
Near Marktplatz the main market square of the city. It takes 10 min by walk to campus.
Near Cathedral in the center. It takes 15 min by walk.
Near the station. It takes 20 min by walk.
You can search for an apartment among friends, on special sites and in the group on Facebook HSG Sharing is Caring St. Gallen. I was lucky, because I found a room in a four-room apartment through the CEMS Club chat. You need to be prepared to pay a deposit for a room, which is usually 1000 ₣. Money sometimes needs to be transferred to a Swiss bank, which can be troublesome. Therefore, the best option would be to pay in cash for the entire period.
Another problem with housing is that often rooms are rented unfurnished. It is much cheaper, but it takes too much time and money to search for furniture, so I advise you to look for furnished options.
Registration in the city and traveling
Within 14 days after the arrival in St. Gallen you need to register at the Town Hall to obtain a Swiss residence permit. To do this, you will need a passport, a special form from the university, a certificate of enrollment and insurance. Insurance is usually issued in St. Gallen, and it costs an average 100 ₣ per month. It is mandatory.
Residence permit is very convenient for traveling. Since Switzerland is in the center of Europe, there are plenty of reasons for traveling. For example, Germany is only one hour away by car.
Switzerland has a developed railway network. Tickets for trains can be purchased in the app, sometimes with a 50% discount. You can reach Zurich in just an hour on a comfortable train with great views, but without Wi-Fi. Buses are also very popular. One trip costs 3 ₣.
Language
At the university, everyone speaks excellent English, but in the city, there can be some problems with communication, because only about 30% of residents understand English in shops and on the streets. I highly recommend learning at least basic things in German to understand numbers, greetings, words for navigation. I have German at A1 level, but this was enough for me to communicate.
University
Studying at St. Gallen University begins with a complex process of course selection — bidding. It works as a bid or an auction. Each student receives a certain number of virtual points, which he distributes to subjects. Those students who put more points get the opportunity to attend the course. Bets are made "blindly", so students do not know how much their colleagues put. I did not immediately figure out exactly how many points it was necessary to distribute and therefore I missed two courses that I was interested in. I advise you to try to find out from your friends how much they put in order not to be in the same situation and not to lose the auction.
The program is practical, almost in every course we had a group project. Representatives of companies are often invited to deliver lectures, for example one of the Vice-Presidents of Credit Suisse led one of the lectures on Corporate Finance.
Exams in HSG are written and it is very difficult to cheat. In addition, a culture of hostility to cheating is very developed, so you can suffer reputational losses if other students notice that you are cheating.
You will have to study hard. There are classes every day, many lectures, they are not always interesting, but in general, the material is useful, and constant practice. The campus library is very large and comfortable, so almost always there are a lot of students there.
There are a lot of clubs of interest at St. Gallen University. You can find both Investing or Consulting clubs, as well as sisterhood / fraternity clubs for parties. To enter these clubs, you must pay around 10 ₣ and annual membership costs 25-40 ₣. It makes sense to join such a club for at least a year, otherwise it turns out to be expensive, and there are a lot of other events during semester.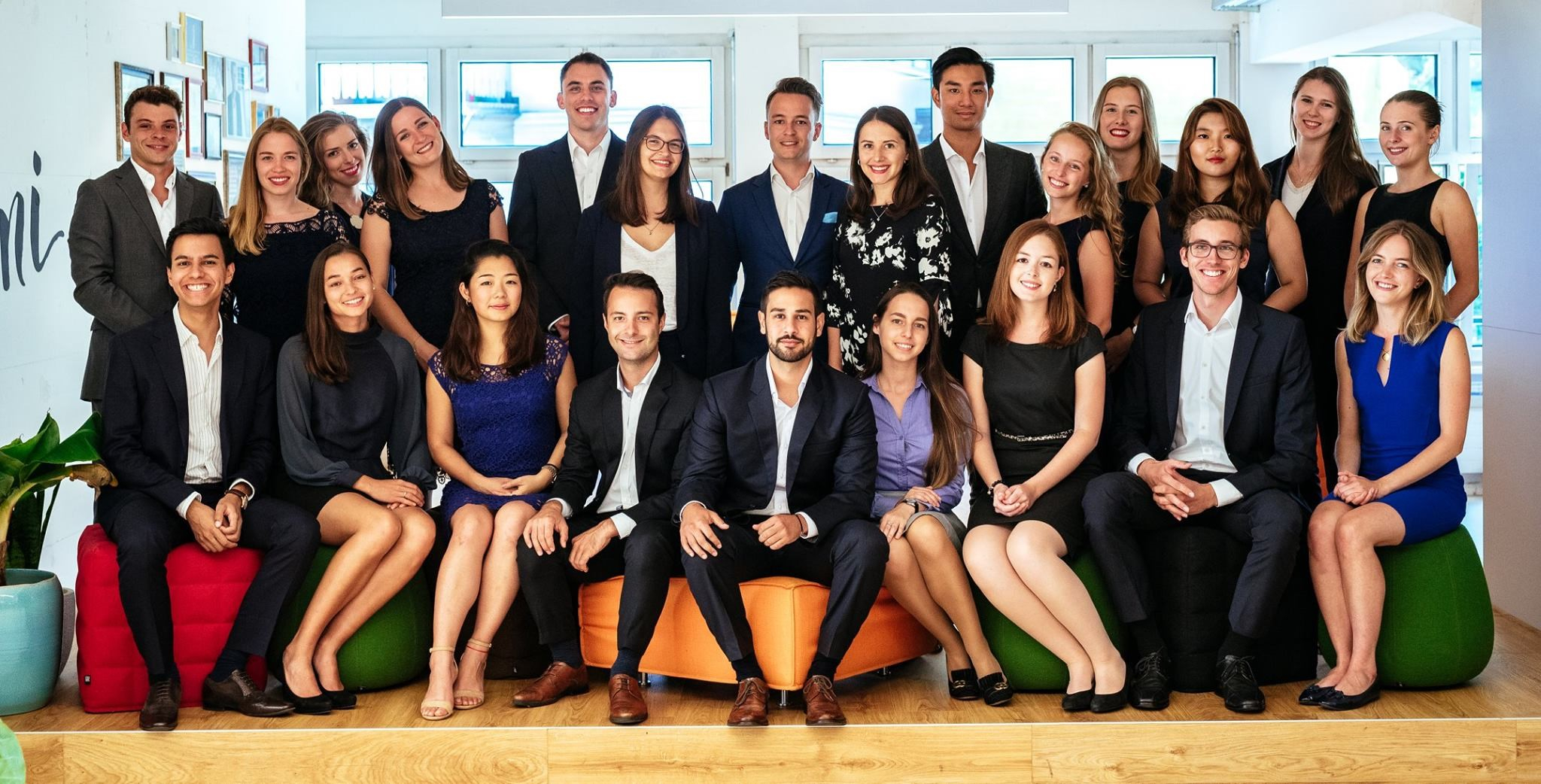 Parties
St. Gallen is very small, so if you do not take care of your own entertainment, no one will. Therefore, almost every day, students organize parties at home or simply open evenings for friends.
At the university, companies organize apéro — small buffets for students after the guest lectures. It is very convenient way to meet with corporate partners. Among corporate events, are the famous Banking, Consulting, Retail and Legal Days when companies' representatives come to the campus and arrange recruiting events and networking. I visited the confectionary party for girls organized by Goldman Sachs, we prepared chocolates under the guidance of a Swiss pastry chef and talked with representatives of the bank.
Job offer
I found a vacancy in consulting company Research & Consulting (RCG) and while I was in Switzerland, got selected. I will start working with them in September.
Culture shock
People in Switzerland love to follow the rules. Sometimes it is convenient, for example, if you cross the road in the right place, any driver will stop, even if there is just one car and it would be faster to drive without stopping. However, sometimes it becomes a reason for the bureaucracy. For example, all official communication takes place by mail and sometimes you have to wait several days for the documents that could be sent online. Shops close at 17:00 on average, and on Sunday almost nothing works, so you need to buy food in advance.
Students gossip a lot. I do not know if this is because there is a small community in the city or this is the mentality of Europeans, but you need to be prepared for this, especially at parties. At the same time, they will never say anything to your face and will just smile.
Money
Everything costs much more than in St. Petersburg, on average two or three times. Therefore, you need to be prepared for the fact that in the dining room the cheapest lunch (without soup) will cost 8-9 ₣. However, if you cook yourself and choose not the most expensive products, and even the cheapest products in Switzerland are of very high quality, you can live quite well. A lot of people go every two weeks to Germany for shopping, the prices there are quite comparable with the Russians, and sometimes lower. Getting to Germany is easy, both by train and by car.