| | |
| --- | --- |
| | Main information |
When: September 21, 2019 16:00 - 18:15

Where: Mikhailovskaya Dacha campus, St. Petersburg, Peterhof, Sankt-Peterburgskoye shosse, 109

Language: Russian, English

Terms of participation: by pre-registration >>
| | |
| --- | --- |
| | About the event |
On September 21, 2019, as part of the opening of a joint project of MegaFon and St. Petersburg University — the digital laboratory <5G_Dream_Lab> — a guest lecture by Frederic Vanoosthuyze, Director of Technical Innovations and Infrastructure of MegaFon, will be held. Frederick will talk about the features of 5G technology in the context of the activities for developers and the creation of digital products. The lecture will be in English. The lecture begins at 17:15.
Before the lecture, all participants are also invited to the grand opening, which will take place at the MegaFon stand, specially equipped in the central hall of the Mikhailovskaya Dacha campus. At the stand, you can see a demonstration of 5G technology at the example of the Dota 2 game, chat with company representatives, and during the ceremony — hear a presentation of a the project. After the ceremony, everyone will be able to take part in an excursion to the Laboratory. The opening begins at 16:00.
The guest lecture and the opening of the Laboratory will be held as part of the GSOM Family Day.
| | |
| --- | --- |
| | About the speaker |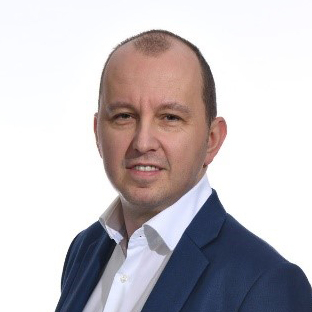 Frederic Vanoosthuyze
Director of Technical Innovation and Infrastructure at MegaFon
Prior to joining MegaFon, Frederick served as director of information technology at Vodafone Germany. During his work, he managed to launch the largest business transformation of Vodafone Germany in history, as well as to merge cable company Kabel Deutschland with Vodafone Germany. Frederick has significant experience in carrying out complex technological transformations, as well as transforming the business of companies.
| | |
| --- | --- |
| | About <5G_Dream_Lab> |
5G Digital Laboratory at the Mikhailovskaya Dacha campus is equipped with a "fifth generation" test zone. The main project of the Laboratory is an additional educational program for students and recent graduates of St. Petersburg University. It will be possible to study there free of charge in parallel with basic studies / work.
Developers will study the features of the fifth generation of communications, learn how to work with current web-frameworks, environments and development tools, and also gain knowledge and skills in the areas of UI, automated quality control and other aspects of creating complex software solutions. Managers will learn how to create and market high-tech products, manage the development process, and communicate with customers on integration issues. During the school year, participants will work in teams and develop products for 5G. The best decisions will be supported by MegaFon.
The Laboratory program will begin with a massive open online course in which all interested students of St. Petersburg University and recent graduates (2019, 2018 and 2017 release) will be able to take part.
| | |
| --- | --- |
| | Time and place |
When: September 21, 2019 16:00 - 18:15
Where: Mikhailovskaya Dacha campus, St. Petersburg, Peterhof, Sankt-Peterburgskoye shosse, 109