GSOM SPbU student Linar Mardanov spent fall semester 2018 in French business school EMLyon. Here is his story about studying, entertaining and some things he noticed about French people.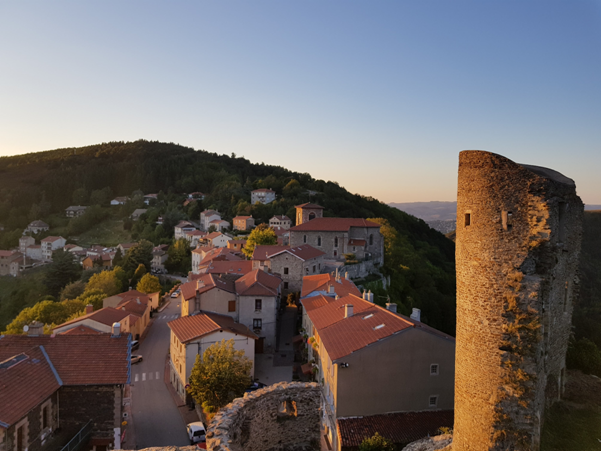 Saint-Etienne neighbourhood
What would be great to know before leaving?
That the time you spend there goes by extremely quickly.
Documents
You just follow the rules of GSOM Exchange procedure. When you're accepted, you'll get an admission letter and a paper to be filled by a doctor proving your ability to go in for sports, nobody checked that one though. The process has two steps. First, you need to fill in the information on Campus France and get the application number. It costs 5000 RUB. Next step is applying for visa. I applied via VFS Center in St. Petersburg. It costs about 6000 RUB. Also, you will need to translate and prove your latest finished diploma (High School diploma in my case). In St. Petersburg it costs around 2500 RUB. Campus France replies quickly. The procedure takes several working days. Visa Centre is a bit busy during July and August. It takes around 2-3 weeks to get a visa.
Welcome week
EMLyon BBA doesn't have a proper thing like "GSOM Buddy Program" for exchangers. During the first week, we had several breakfasts to meet different exchangers, then organizational meetings concerning migration questions, timetable, sports, language courses etc. The rest of the week, we had Intercultural Seminars, which account for 2.5 credits ECTS. Theory was not new, but the atmosphere was nice.
Culture shock
Here are some things I've noticed about French people:
— In general, the French really don't place the work or studying in the first place. Missed deadline or being late is ok there.
— They are a bit obsessed with food. They have a lot of eating habits concerning special time to eat and the duration of it. We had 2 hours of lunch break.
— Sunday is dedicated to family: almost all shops, banks and cafes are closed.
— Strikes are also a French tradition. Even our relatively small city (Saint-Etienne has 200K inhabitants) had Yellow Vest protests.
University
Campus for bachelors is in one building: it has cozy Learning Hub (place to rest and study), relatively well-equipped auditoriums and rooms to take for self-work. Do not miss the chance to check Makers' Lab: they have some high-tech staff going on there. Unfortunately, coding lectures are only available in French. You can also print your own model on a 3D-printer for free. There's also a small cafeteria on the first floor with some sandwiches, hot dishes (not many), drinks and deserts. The average menu (panini sandwich, citron tart and a juice) costs about €5.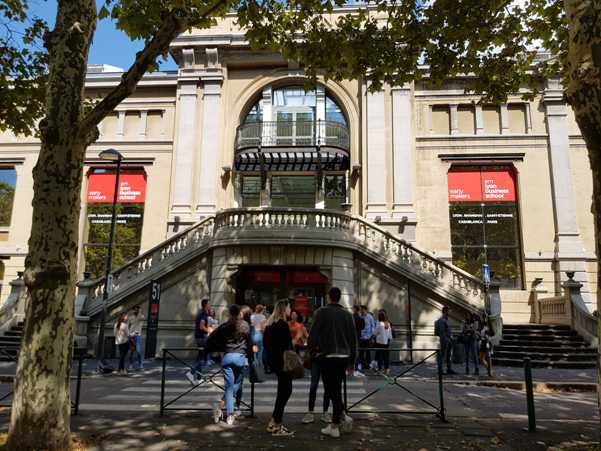 BBA campus
Place to live
Dorms and student residences are usually provided by the CROUS system. It is around €300- 400 EUR for a room, and you need to be fast to book it for the semester. They say finding private housing in France is hard: you need a guarantor and not every landlord is ready to host for less than 6-12 months. We were lucky to find an option close to the school and rented an apartment for three people and payed €365 each. All the facilities were there. Had some problems with heating and the Internet but they were fixed, not very quickly though.
Studies
We could take any courses from the 3rd and 4th years. There were around 35 courses to choose. I liked that almost all of them were practice oriented, every course had group works and projects. My marketing specialization courses were very useful and full of helpful information. Also, I liked the business game a lot: 3 intense days (8 hours per day), a lot of covered topics, live competition with others and even a nice reward for winning €50 vouchers. On the other hand, I wouldn't recommend Entrepreneurship course. It had no structure, almost all the time we prepared the team project which accounted for 100% of the grade. Also, we were the only students to go to the school on Saturday.
It wasn't difficult to study. All the Exams were in-class. One of them (International Marketing) had an online quiz format. Nobody failed.
Fall 2018 EMLyon exchangers
Money
We paid €365 each for accommodation in a 3-rooms shared apartment.
Food was around €250 per month. The usual price for the dinner in the restaurant is around €18-25. We cooked at home a lot.
Saint-Etienne transport card costs €27. There's also cheap bike rental system.
Museums are often free for students, just show the visa or the ISIC card. Parties were often organized by the student association (usually €5-8). The association also organized the trip to Paris for around €200 all included.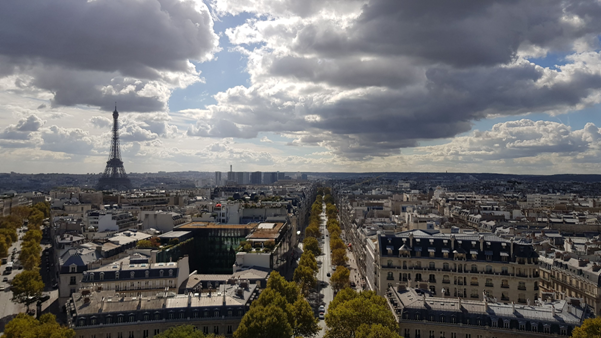 Trip to Paris
What to bring with you?
Some Russian food specialties.
Best practices you would recommend implementing at GSOM SPbU?
1. Student association activities and the voting system.
2. Shorter exam period.
3. Business game for students.