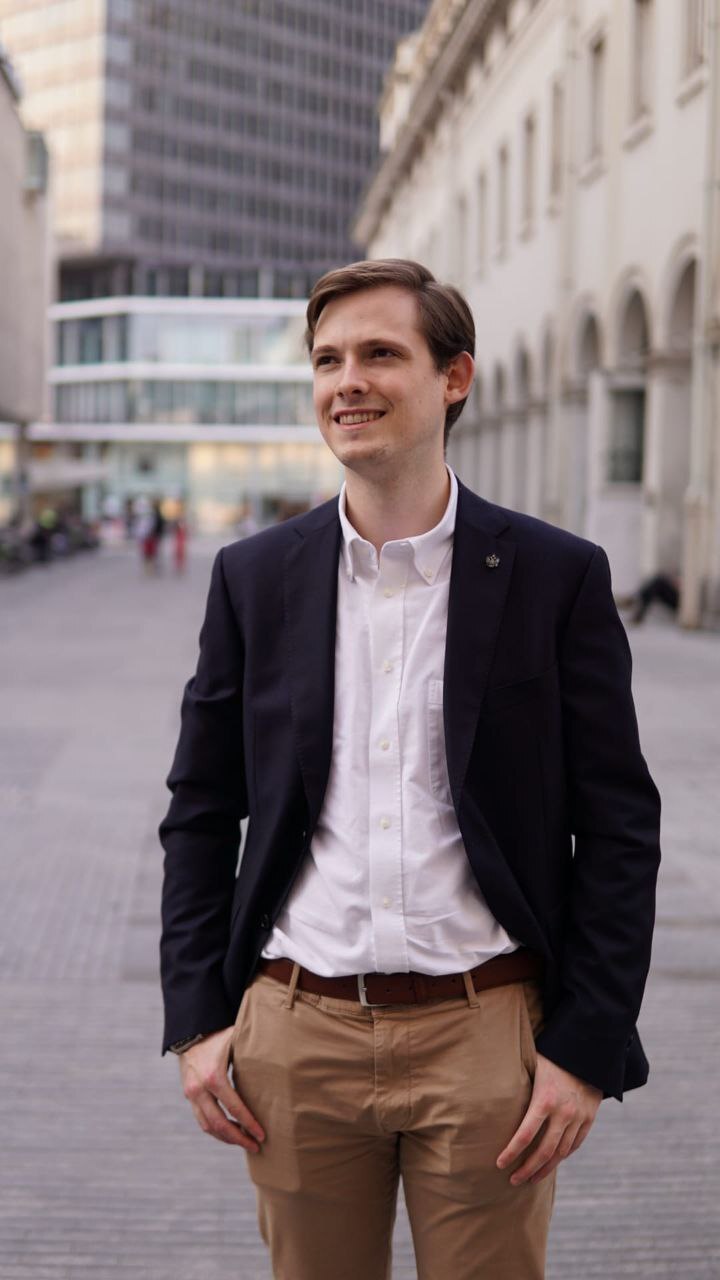 Jerome Lambert is a first-year Master student at GSOM SPbU, originally from Belgium. He has chosen the Master in Business Analytics and Big Data (MiBA) program. Two years ago he came to St Petersburg and GSOM as part of the Erasmus program. He liked the city and the Business school and decided to continue his education in Russia. We have asked Benjamin Tetteh, student of GSOM Master in Management program, to discuss with Jerome his education at GSOM, his choice of the program and why he has decided to study in Russia again and has chosen the MiBA program.
Interviewer: If someone is supposed to ask "Who is Jerome?" How will you respond to this?
Jerome: I must admit that people describe me as talkative, an individual who makes decisions quickly relying on his instincts while also being seen as proactive and friendly. Jerome also likes to play golf, travel and learn other languages.
Interviewer: Jerome, tell us, please, when you chose GSOM SPbU as an Exchange Business School, why was it exactly this School? Have you looked for information on some resources, have you analyzed the data?
Jerome:There was a list from Erasmus with which I started thinking about which country would be interesting to study while also experiencing a new culture. I then started looking for universities in Russia and noticed GSOM was quite high on most of the rankings. The QS Ranking was the basis for my decision as GSOM SPbGU seems to compete with HSE University and Lomonosov which admittedly are the best in the Russian Federation. That was the basis for choosing GSOM-SPbGU.
Interviewer: What did you remember during your exchange semester, what did you find most useful?
Jerome: Purely about the university, I must say the facilities were extremely ergonomic and excellent with the teachers being extremely professional in their conduct. This made the quality of teaching excellent in my opinion. The university itself was also ready to assist with any issues I encountered. With Saint Petersburg as a city, I enjoyed visiting museums and Mariinsky Theater. The good thing is you cannot get bored in Saint Petersburg although it was quite unfortunate I could not visit a lot of places since I had just some few months here.
Interviewer: Did you have any difficulties with adaptation in Russia? What surprised you the most in Russia? What did you like the most?
Jerome: In the beginning I faced a language barrier but with time I learnt some basics in the Russian language and moving around became much easier.
What I loved the most, especially after arriving, was to get all the prejudices about Russians blown away. The weather isn't really cold and I must say it's even colder here in Brussels than Saint Petersburg.
Interviewer: Why did you decide to come to St. Petersburg and GSOM SPbU again?
Jerome: I will be quite short in answering this question I think but GSOM's did have a programme which was interesting to me which is the Masters in Business Analytics. I know I haven't made a decision yet but should I get a good job in Russia, I will manage to stay due to the high quality of living within the city.
Interviewer: Why did you choose the MiBA direction? How can it be useful to you?
Jerome: I never had Business Analytics in my courses in Bachelors and finished my Masters this year and I felt like taking something like strategy or finance was redundant to be honest. A friend of mine here in Belgium studied Business Analytics and she told me that it was interesting and started thinking that the future is all about collecting and using data hence this is it. As everyone is saying, data is basically all of the 21st Century.
Well, useful... I do not know yet until I get a job. I guess it will be useful as I did mention in giving me new skills and it being an asset to manage large companies and make profits.
Interviewer: Just a personal one here, did you find any difficulties in understanding the basics of analytics as it could involve the use of software and other mathematical and models if I am right?
Jerome: To be fairly honest, I noticed I already had some basics since programming and IT were my hobbies while growing up. With knowledge in one programming language for example, it will be much easier to code in order languages too.
Interviewer: What are your plans for two years in Russia? For example, do you want to see other cities?
Jerome: I definitely had plans but was trashed because of COVID. I do really want to visit Kamchatka which to be honest is one of the most beautiful places on earth. Also I would like to see Siberai, the Baikal where some fishes are fished since it's better getting them from the main source. From my experience, when you eat a good product from where it is being produced it's even better.
Interviewer: Have your expectations been met at GSOM?
Jerome: Yes they are met. They were met during my exchange and even now based on the professionalism of tutors and quality of education. I actually came with pretty much higher expectations and fortunately all of them have been met. At least Saint Petersburg on its own is cultural, you can be active, go to the theatre, cinema and other places. My expectations have been met by both GSOM and Saint Petersburg.
Interviewer: What are your long and short term career or professional objectives ?
Jerome: To make a discrimination between long term and short objectives, well short term I think I would like to work in a big company to see the industry from within, to work with people like a fulltime employee and make connections in a field that will be interesting for me and eventually in the long-term I would like to make my own company. I believe to build my own company I should have some experience from a large company which is what I hear often and quite legit.
Interviewer: How does the MiBA program play a role in this?
Jerome:To be fairly honest, I do not have which role exactly but I feel this will enhance my management capacity and being able to integrate big data into decision making. I believe this is a major aspect but for other jobs that will be opened through MiBA might not be interesting as I am interested mostly in manager positions.
Interviewer: Any final words for anyone planning to study at GSOM/ Saint Petersburg, Russia?
Jerome:Well I am not very good with final words because I make them a bit too long but I would say don't hesitate, Russia is a great country. If you have any doubts please contact the university for clarity and I would also make my contact details available for any Q&As. Just go for it.