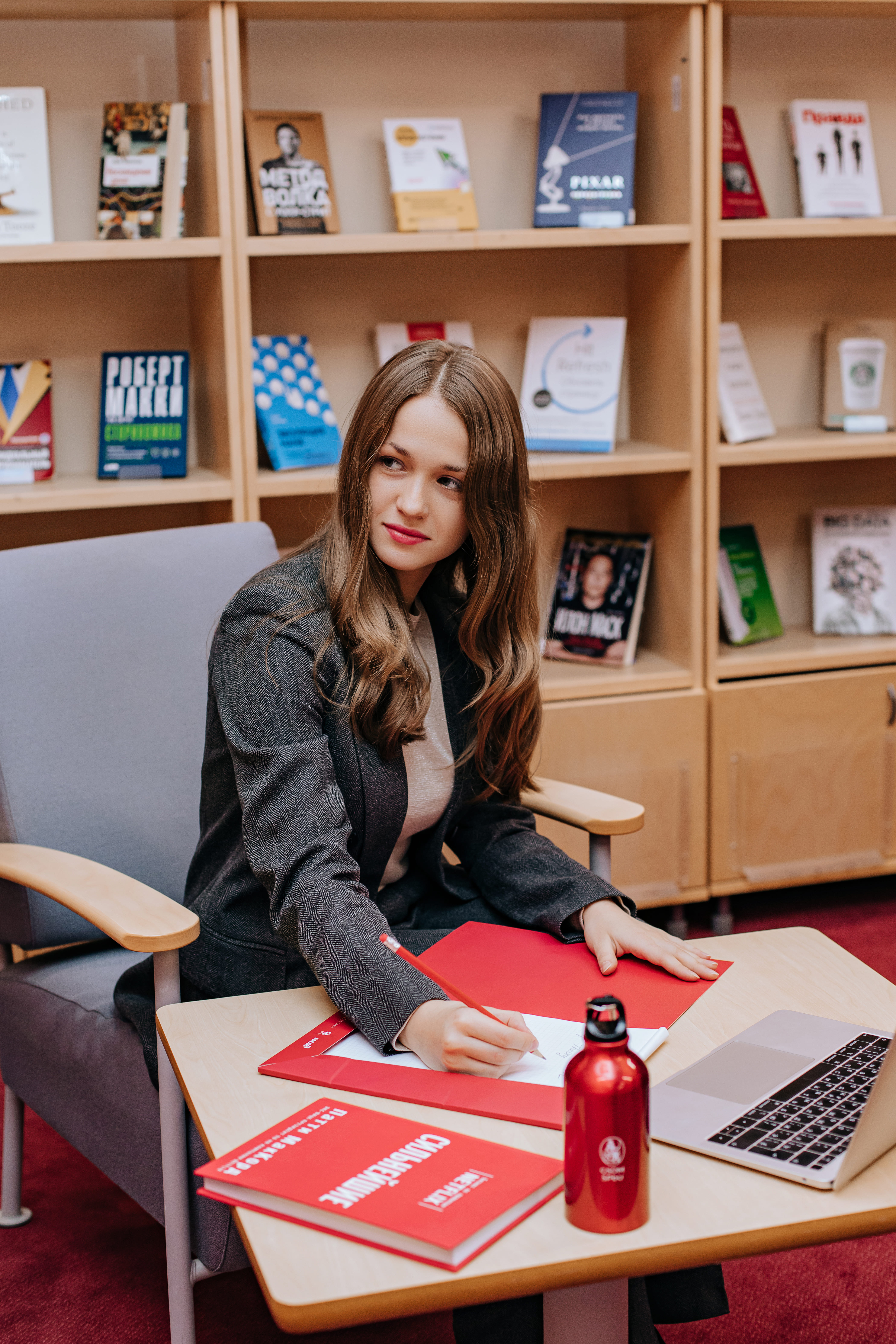 Ekaterina Nazarenko enrolled in the Graduate School of Management St. Petersburg University (GSOM SPbU), Management Bachelor program, in 2015. After graduation, she continued her studies in the Master in Management program — MiM, then in the Doctoral one. All this time, Ekaterina has been developing in marketing: she participated in a consulting project with P&G, interned at Gazprom, conducted research, and organized events. In an interview, Ekaterina shares the highlights of her studies and her plans.
You have been studying at GSOM SPbU for the seventh year, first a bachelor program, then a master program, now a Doctoral course. Why did you choose GSOM SPbU as a Business School for all stages of education?
Any person needs to understand where they want to study. In the very beginning, my parents helped me. We chose together. The task was to get a high-level education based on my abilities. I entered the GSOM SPbU, and the next four years were one of the most exciting periods of my life. Then, when it was over, I immediately wanted to continue. Important for me was that it is possible to study in English in the Master program. I wanted to study management and learn how to write articles in English. And the fact that the master's thesis is written in English is also a big plus for the portfolio.
After the Master program, I finally got used to it and realized that I was ready not only to work in marketing but also to be a researcher and teacher. I felt specific expertise when we worked with Procter & Gamble. The project concerned replaceable attachments for electric toothbrushes (editor's note — Academic Advisor — Maria Smirnova, Associate Professor, Head of Marketing Department). I performed there not just as a performer but also as a leader. It turned out that in six years I learned something, I liked to broadcast this knowledge!
My team had many managers and economists, and the project itself involved marketing. I understood more in this area, so I had to become a locomotive. However, I must say that the other participants were adjusting to it well too and offered terrific ideas.
In addition, many thanks to the Marketing Department, which allowed me to participate in writing two academic articles for the journal "Marketing and Marketing Research". During that period, I realized what an exciting way it was — writing articles and science.
And yet, why did you decide to go to GSOM SPbU in 2015?
I am from the northern region, so I desired to study in a big city — Moscow or St. Petersburg. Petersburg Inspired and delighted me for many years when I came here as a tourist. Of course, I wanted to enroll in one of the best universities in Russia, and even, one might say, in the world, because St. Petersburg University is included in the most authoritative international rankings.
I was also fortunate because my friends already studied at the Graduate School of Management St. Petersburg University, I collected reviews, and they were only positive. I think that no one will tell you better than the students. Then my parents and I took a close look at my abilities: I like English, I like the international environment, and as I later realized, English is an essential tool that every manager can use for himself. And I knew that English would be needed at the GSOM SPbU.
How did you choose a specialization?
Thanks to the first marketing lecture, I chose it where I met my future scientific supervisors in Bachelor and Master programs - Sergey Alexandrovich Starov and Igor Valentinovich Gladkikh. I was just delighted. The professor showed us various videos and advertisements and explained how it works in practice and theory. The general marketing course is 1500 slides learned by heart, with multiple specifications and definitions. It seemed so interesting that I learned everything in three days and got great pleasure from the exam and the highest score.
Specialization appeared in the third year; no one had specialized subjects (sales management, brand management, B2B marketing, marketing management, pricing strategies). Besides, we solved cases, did group assignments, and were completely immersed in this beautiful world of marketing. A marketer is both a creator, a statistician, and a mathematician in one person; a person who is ready to make extraordinary decisions and wants to change the world for the better. Everything that we have now in our market is the work of marketers. They "get into" the heads of consumers in a certain way, study their needs and demands, and create products that cause a wow effect. Why did we switch to wireless headphones? Because even on the Internet, there were memes about a devil who confuses headphones for you. It's about psychology too.
What are the main impressions and insights you received during your Bachelor and Master programs?
Many things happened. When I was studying in the Bachelor program, the exchange was probably the most exciting thing. I went to Belgium in KU Leuven. Leuven is located near Brussels. I was happy to take advantage of the excellent opportunity to travel not only in Belgium but also in Europe and, of course, obtain knowledge.
It was a tremendous gift for me to study at the Mikhailovskaya Dacha campus for all four years. The campus equipment exceeds all expectations. Everything possible has been done for students. There is a place for studying and creativity: dancing, acting, and a student club.
The master program is a precious time for me, despite the covid. St. Petersburg University reorganized as quickly as possible. I began to feel much more confident because some subjects were repeated. And it turned out to be especially interesting. For example, strategic management was repeated three times (Bachelor, Master, and exchange program), and all three times, the professors explained the critical aspects of the discipline differently. To look at the same course from different angles is priceless for me.
There are also new subjects in the Master program. I strengthened my competence in mathematical methods in marketing, learned about new facets of the formation of mathematical models to confirm hypotheses. There were a large number of practical tasks. I needed to know how marketing for know-how works. And the most important thing I have learned is the ability to work in a team. Students, teachers (professors), and company representatives often solve problems together and create content during the training. After one such job, I was invited to a paid internship at Gazprom just after the case championship. It was a wonderful experience. However, thanks to it, I realized that I wanted to be more of a professor and researcher, not a performer.
Another great opportunity is learning Spanish. I am grateful to the Department of Foreign Languages that I have not abandoned Spanish and can now communicate with native speakers.
Many people see the beautiful cover of GSOM SPbU but do not know what is behind it. Tell me, what is Business School for you? What is its value?
The cover is gorgeous, but you need to understand that it's even more interesting inside. It's like Disneyland: it's beautiful outside, but only inside you can experience all the excitement of a variety of experiences and emotions. It's like a roller coaster, where you're afraid at first, and then you enjoy the process. GSOM SPbU is its people. Not only friends but also colleagues, teachers, and company representatives. There is a community here, but it is a professional community and a family. They will help you and guide you. GSOM SPbU has an excellent team spirit. Here you learn to build relationships with different people, which will be very useful in life.
GSOM SPbU is a practice-oriented approach to learning; knowledge is immediately applied to cases and real business. Students receive internship and job offers almost every day.
What would you recommend to the guys who are just looking at Business School?
If we are talking about a Bachelor program, this is one of the most critical decisions in your life. The Bachelor program provides the fundamental knowledge with which you will go further. Bachelor programs should be obtained in a good place, and one of such places is GSOM SPbU. It won't be easy here, but interesting. The GSOM SPbU path is valuable because it constantly has to overcome obstacles, but it is not something impossible, but rather a challenge for both students and professors.
The exchange is precious. The Business School has established ties with different continents, many countries, and different universities. There are always many places to go. And those who study on a budget receive the opportunity to go somewhere for an exchange and monetary compensation for housing and other expenses.
If we are talking about a Master program, you need to understand that you will need more independence: they study here for only two years, and much attention is paid to self-education. Classes with classmates in the library are also a perfect experience. The Master program is taught in English, and new opportunities will open up for many both in work and in writing articles and scientific materials. English will come in handy in any case.
The Master program at GSOM SPbU opens up even more opportunities for exchanges, trips to leading international business schools. In addition, there are many foreign teachers from Turkey, Finland, and Spain from various countries.
What are your plans for the future?
What do a researchers do? They take the topic and looks for those moments that have not been studied before, delve deeper, understands the problem, and come to certain conclusions. I'm interested in it. For example, my scientific articles related to the relationship between the social responsibility of business and the organic products that the company sells. I had the opportunity to put my research into practice — we cooperate with Vkusvill. We are now writing a case about what makes this company unique so that we can use this experience in other countries in the future. And this is the topic of my Ph.D. thesis, which I am currently working on. I am interested in managing such projects.
In addition, I tried on the role of an Academic Advisor and felt that it was interesting. I love working with students; they always have non-standard ideas. Executive Education is also about contribution: a person always wants to give something to society. And if there is knowledge, then it is necessary to share it. I want to be a Business School professor, and I think it's quite possible; I can already give lectures on branding, and in the future, when I defend my dissertation, I would like to write my training course on marketing and branding services. In parallel, I would like to be a consultant to apply my knowledge, be an active participant in the business environment and make the world a better place.