Maria Karacheva is a fourth-year student of the Management program at GSOM SPbU. She spent an exchange semester at the Católica Lisbon School of Business & Economics. Maria told us why Lisbon is especially good for start-ups, and for slow life and study.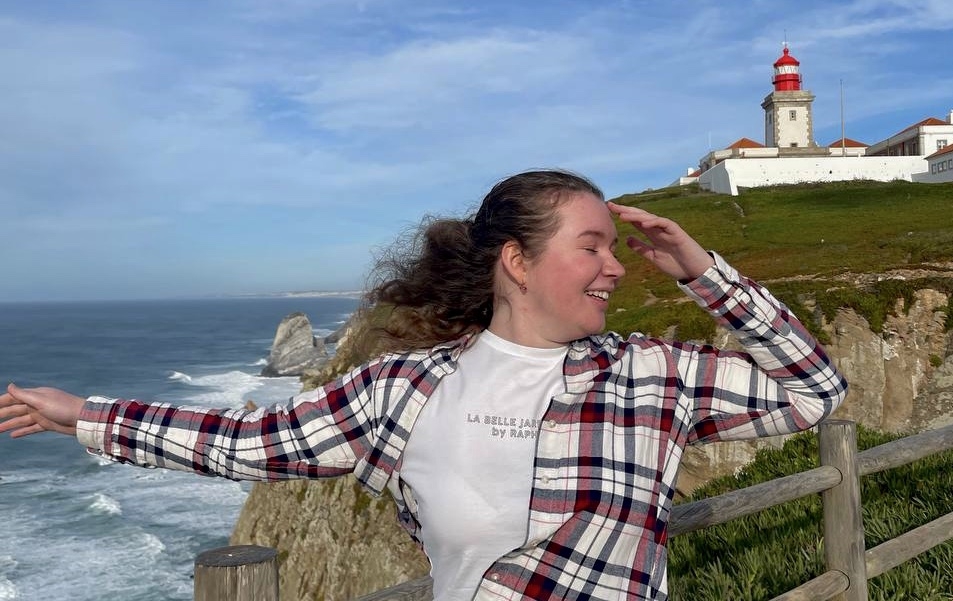 Tell us what would be useful to know before the trip?
For me, from a psychological point of view, it turned out to be important to understand what my first days would be like in order to smoothly integrate into life and feel in my place. To do this, it makes sense to look at the infrastructure of the area in advance: are there supermarkets, pharmacies, where is the metro. It would be nice to know that cards are not accepted everywhere in Portugal and you should always have cash. It's a good idea to learn some simple phrases in Portuguese in case you need help.
I also advise you to make a list of interesting sights in order to go not with excitement, but with a positive attitude in anticipation of something interesting. Be sure to figure out what the restrictions are in connection with the pandemic. In Europe, everything is strict, and the fines are quite large. Russian vaccines are not accepted here, but it is possible to do antigen tests for free.
What documents/certificates do students need to travel?
It all depends on the university you want to go to. Somewhere the average IELTS score is 6, in another it is 6.5. The competition for one place in different universities and business schools changes from year to year. The GSOM international department was very helpful and provided all the necessary information. The host University, in turn, told in detail everything about what documents they need. I wrote a question to the Portuguese consulate about what I needed for the trip, and they sent a list: a certificate of good conduct, which, by the way, is done for a month, a certificate of income, and so on.
Have you been in quarantine?
No, I didn't have a quarantine; On the eve of departure, I passed a PCR test and filled out two forms with data. My exchange friend in England spent 10 days in quarantine.
What did you do during Welcome Week?
We only had a Welcome Day. In the first part, Dean spoke online, and in the afternoon they arranged a quest around the city for us: we walked, studied the sights, and ate traditional dishes. Our team did not finish the quest — in the evening everyone ended up on the famous bar street and continued their acquaintance there. Classes started the next day. Social life was busy all the time. There are many different clubs here: "sustainable development", "financial" and so on, and you can go to their events. We went to the beaches, rode bicycles, had a community work day outside the city — everything was super interesting.
Who was in your group?
We learned mostly on-campus. I came to the subject and got acquainted with students who also studied it. Almost any course could be chosen by both those who came on an exchange and the Portuguese. I was faced with the fact that I could not understand many people — to form an impression of a person's personality, and only after a couple of months it became clear who was who. The variety of nationalities was huge from Canada to Asia.
What did you understand about Portugal and the locals?
I have recently read that Portugal ranks first in the world as a country where one should go to meet old age, and I agree with this. There is a complete sense of the slow life. It seems that the Portuguese have taken a course on "Mindfulness" by Ksenia Kolesnikova, they live every day consciously and enjoy: they are not in a hurry, they even like to stand in lines, they communicate a lot, they are tolerant and as happy as possible in life.
In Russia, sometimes someone is rude, someone looks at you the wrong way; there is no such thing here, they are sincerely benevolent. When you walk along an empty street and you meet a person, he or she will definitely stop to wish you a good day. I wondered why they greet me, I don't know them! And that's how they do it. They also constantly thank each other — even when they cross the road, turn to the driver and say thank you. That's cool. This is why I love the Portuguese.
Is there anything you didn't expect?
Two things I didn't know. Portugal is a country of creativity. There are many creative people everywhere and private galleries, installations, shops with designer clothes, furniture and jewelry. You walk and constantly stare at something. The Portuguese government also had the idea to create its own "Silicon Valley". They are now actively attracting startups to the country and quickly give residency. There are many Russians in Lisbon. The guys come to open a business, bring teams and create a community of like-minded people. If you would like to live by the ocean and you are attracted by the spirit of a startup — you are welcome.
How do you like the climate?
Portugal has an amazing climate: even at the end of October you can swim in the ocean, a raincoat is the warmest clothing in winter. The ocean is a separate delight, and there is beautiful nature; oranges and lemons are growing on trees; a cafe owned by a husband and wife, and they are happy to see you, because for them every client is happiness. My brain constantly did not understand why it was so sunny and warm. As a normal Russian person, I expected that since autumn had come, it was about to become cold. I lived with the thought and feeling that this was the last warm day and a chance to swim in the ocean. And when it got colder closer to October, I realized that they did not have a heating system; thanks to the landlord who provided me with a heater.
What is the infrastructure of CATÓLICA-LISBON and how was communication with students organized?
CATÓLICA-LISBON University is located in Lisbon, close to the business center of the city. As the Graduate School of Management SPbU has a separate campus only for managers, there was the same situation. At the university there is a library, a canteen and two shops are located on the territory: a bookstore and a merchandise store. There are no dormitories. The building looks old, but they are now starting construction on a new high-tech campus. The classrooms have everything you need for classes, and also there are outdoor terraces with palm trees, so as not to sit indoors in warm weather. It is difficult to talk about the organization of communication with students, I had not so many questions and everything was quickly resolved. Before coming to the university, they always kept in touch with me and provided a lot of information.
How did you find your flat?
The university does not provide a dorm, but this is not a minus. We were sent in advance a lot of sites where you can find housing, and they gave us a small discount from the university. There are many ads, and the main thing is not to leave this question to the last moment, otherwise all interesting options will be booked. The price range is from 300 to 600 euros per month. I rent a room in a duplex apartment for 420 euros per month, plus 200 euros deposit. This is a modern apartment with new furniture and equipment with everything you need — even a dishwasher and a blender. The apartment has 9 rooms, 4 bathrooms, large kitchen, living room, and pantry. I live 15 minutes drive from the center in a residential area, but I just wanted there to be no evening noise. No offense to Nova University of Lisbon, which, like CATÓLICA-LISBON, accepts students for exchange and provides a hostel, but accommodation there costs 600 euros per month plus 1000 euros a deposit. In addition, the guys have to buy dishes and linen themselves, but I came for everything ready.
Is it difficult to study? Are there lots of new courses?
Studying in comparison with GSOM SPbU is simple. It is customary for them to relax on weekends, go to the beach, no one works. I'm used to studying at GSOM SPbU, and therefore for the first month I was confused: can I really relax on weekends, but do I really have time to walk every evening? Nevertheless, the study was productive and useful. The difference in intensity — all is the same, but more slow. Homework is mostly group projects and case studies. I recommend everyone to pay attention to CATÓLICA-LISBON, it is underestimated, everyone wants to study at Nova University of Lisbon on the ocean. For me, compared to Nova University of Lisbon, there were more new and interesting courses here. For example, lectures on Product and Customer Management, Online Advertising, a cool Applied Data Science course, where we worked on interpreting and visualizing data. I'm not ashamed to include the tools that I learned at Applied Data Science in my resume - we made a cool project. It is also worth mentioning the course on Sustainable Development related to consumer behavior, mandatory strategic management and Portuguese language classes. There were a lot of courses in marketing and finance on the list, and I would not mind taking something else, but it didn't fit into the schedule. Separately, I would like to say about the professors, they are all super energetic, active and there are a lot of practicing teachers.
Did you learn Portuguese beforehand?
I only looked at a couple of phrases, I didn't learn, but at the GSOM SPbU I studied Spanish, and they are similar to Portuguese. Now I understand Portuguese much better, I can talk to the locals in a cafe.
For those who are going to Portugal for an exchange, tell us, how much money do you need on average for tickets and for life?
Visa, plus a certificate of good conduct, some transfers — 10,000 rubles.
Round-trip plane tickets — 30,000 rubles.
Insurance — 17,000 rubles. Some guys take the simplest insurance for 4000, but I have a good one. In Portugal medicine is expensive, this is a must have.
I got 820-850 euros per month for my life: 420 euros for housing, 30 euros for a student pass for any type of transport, 4 euros for the average cost of a taxi ride around the city, 10 euros for cellular communications, 160 euros for groceries — I cooked at home fish, and meat, and fruits — enough for me, 200 euros — for entertainment.
I am a big fan of restaurants and go to them about 4 times a week. In Portugal, prices are twice as high as in Russia. Although a taxi is cheaper than in St. Petersburg. Portugal is a European country, and it is customary to organize strikes here, the metro can be closed at the most unexpected moment.

What can you save on?
A life hack that I recently learned is that many museums are free for residents of Lisbon, and as it turned out, this applies not only to those who have residency, a rental contract is enough. Last month I went to museums for free. In a student canteen, lunch costs 4 euros, sitting in a restaurant 20 euros, in a cafe, on average, it turns out to eat for 8 euros. Here wine is very cheap — 2-4 euros and oysters — 2 euros.
Where did you go during the exchange?
I went to Italy, to Rome, round-trip tickets cost 25 euros. I didn't go anywhere else, but not because of coronavirus restrictions, there were no problems — I did an antigen test and traveled, but I really wanted to focus on Portugal. I traveled around small picturesque cities. And thanks to the student pass that is valid outside of Lisbon. I had a goal — to get to know Lisbon and Portugal as much as possible, and I still didn't visit everything and dream of returning.
What is the most vivid memory?
I wanted to tell you first how we went to the casino. But in fact, the most vivid memory is Cabo da Roca, the very edge of Europe. December 31, plus 20 degrees, mountains, clear endless ocean. You look and understand how damn good life is, for this it is worth learning and developing.