STUDENT LIFE AND PERSONAL DEVELOPMENT OF STUDENTS
GSOM offers a wide range of extracurricular activities. Some of them are mainly academically oriented, others are primarily social. GSOM students are encouraged to participate in a variety of events which stimulate their personal development: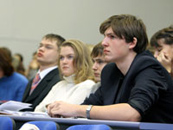 Freshers' Day is organised to welcome the newcomers in a friendly atmosphere and to encourage their creative impulses so as to boost their confidence.
Peter F. Drucker Award is the largest corporate event and the most important GSOM tradition that brings together students, faculty, and alumni upon completion of the Annual Student Conference. Awards in seven nominations are presented to the students as well as to the distinguished faculty members based on the overall student voting that takes place earlier in the semester. The ceremony is accompanied with a show where the most talented GSOM students appear on stage under support and guidance of professional directors and musicians.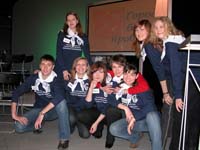 Sport activities complement academic studies. Students are encouraged to participate in a variety of sports tournaments: basketball, field and track, volleyball, badminton, chess, fencing and others. GSOM students have their own football team. They also take part in various quiz shows.
The Annual Godwin Wang Business Plan Competition is a joint project of the Graduate School of Management and the Institute of Management, Innovation and Organization at the Haas School of Business, University of California (Berkeley) initiated in 1999. The aim of the competition is to foster the spirit of entrepreneurship and to encourage entrepreneurial venture activities among the students and graduates of SPbU and other universities.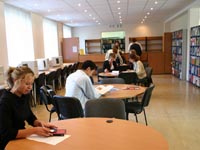 The School's best students and international participants take part in the Annual International Student Research Conference (ISRC) hosted by GSM. The School also welcomes students' participation in international research conferences and publication competitions.
Since 2003, GSOM students have regularly participated in the Fancy business games organized by the Delovoy Peterburg newspaper, and since 2002 they take part in the most renowned business games by L'Oreal — E-Strat Challenge and Brandstorm. In 2005, first time in Russia a team of GSOM students won the third prize in the E-strat Challenge global competition by L'Oreal.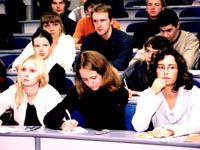 GSOM soccer team is one of the best at SPbSU. The winner of "G 8 SPbSU Cup" – 2008, 2nd place at «Saint-Petersburg White nights cup -2008". GSOM teams won a number of University championships: in volleyball, track and field athletics, fencing, orienteering, aerobics, sport and Latin American dances won a number of University championships: in volleyball, track and field athletics, fencing, orienteering, aerobicsand aerobics.