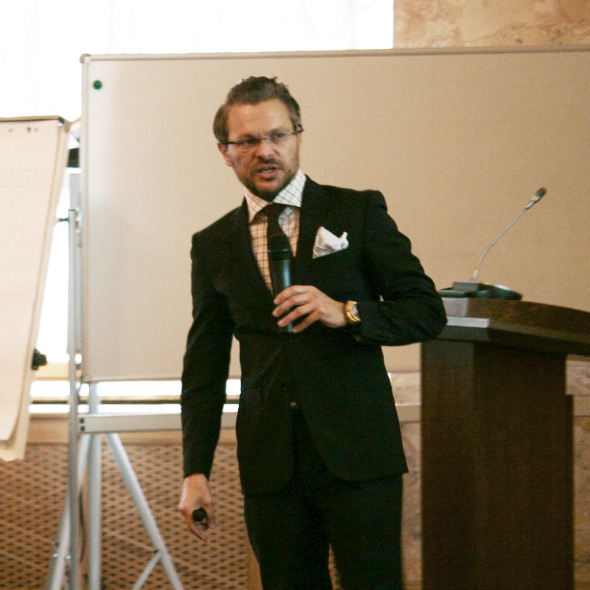 October 13th, 2017 XXI Dean Pashkus Readings will take place. Guest speaker Ivan Tchakarov, Citi Chief Economist in Russia, Ukraine and Kazakhstan will deliver the lecture on topic "Economic Developments in World/Russia".
The event was attended by more than 60 people: professors, staff, students and partners of GSOM SPbU.
Traditional Dean Pashkus Readings are held at GSOM SPbU every October since 1996. These teachers and researchers of the faculty pay their tribute to the contribution of Yu.V. Pashkus to the creation of GSOM SPbU.
Since 2006, Readings consist of a one-hour report on fundamental or applied management issues, followed by questions and discussion. Among the well-known scientists as part of the Dean Pashkus Readings, reports were made by: Academician V.M. Polterovich, Professors B. Z. Milner, V. L. Tambovtsev, A.V. Buhvalov, S.R. Filonovich, O.A. Tretyak, S.M. Kadochnikov and others.

For information
Ivan Tchakarov has worked in Russia and the regions for almost 10 years now in such companies as Citigroup, Renaissance Capital, Bank of America Merrill Lynch, Nomura and Lehman Brothers. He has been awarded for the accuracy of his forecasts by Consensus Economics, Focus Economics, etc.
Ivan Tchakarov started his professional career at the International Monetary Fund in Washington, D.C. There he worked in the Research Department, building large-scale macroeconomic forecasting models, and the Asian Pacific Department, where he was the Lead Economist for Thailand, Myanmar and the Maldives.
He has numerous publications in scholarly journals in the area of open-economy macroeconomics and has appeared on CNN, CNBC, Bloomberg, Reuters TV, Russia 24, RBC and others. He has been quoted in the FT, WSJ, NYT, The Economist and writes regularly for Vedomosti, the main Russian business daily.
| | |
| --- | --- |
| | Gallery |