On October 18, 2019, Ivan Tchakarov is Head of Russia/CIS Economics, Citibank, gave an open lecture at GSOM SPbU. The theme of the lecture was «Growth in emerging markets: low on fuel and driving uphill. How does Russia fit this pattern?»
According to Ivan Chakarov, it is difficult to predict medium-term growth or assess the growth potential of emerging markets. One might argue that the excessive optimism about emerging markets growth that forecasters have been guilty of in the past seven years could simply be an unfortunate run of bad luck​. These includes series of one-off shocks such as the end of the commodities super-cycle from 2011, the Eurozone crisis, and the uncertainty surrounding global trade rules that has grown since the start of 2017​. Also, Ivan Tchakarov noted a decline in the growth of the Chinese market, which has an impact on global trade trends.
In the second part of the lecture, Ivan Tchakarov noted that efforts to solve the problems of economic growth in Russia are made through National Projects.
Ivan analyzed the programs provided by the Audit Chamber. He said that a closer look at the 13 individual programs as provided by the Audit Chamber suggests that those with the highest rate of implementation have a relatively smaller investment spending portion and a larger current spending share​. For example, those projects that are in the area of demographics provide direct cash injections to mothers in what Russia calls maternity capital, have more of a current expenditure nature and are, therefore, easier to implement​. In contrast, projects related to infrastructure and road safety, require a much more laborious preparation, including investment passports, certain legislative changes, etc. ​It is natural then to expect that projects of the latter nature will take more time to kick in. ​Once the fixed costs are covered, though, spending should accelerate, catching up with initial delays.
Russia has been persistently moving up in global competitiveness rankings over 2010-2017. The Doing Business position upgrade was driven by almost all activities, especially starting business, getting electricity, protecting investors. This resulted in a quick recovery of FDI's from 2014-15 downturn, supporting Russia's economic growth.​
In conclusion, Ivan Tchakarov emphasized that the country has funds for the development of the Russian economy, and with their effective use, it is possible to support the planned growth.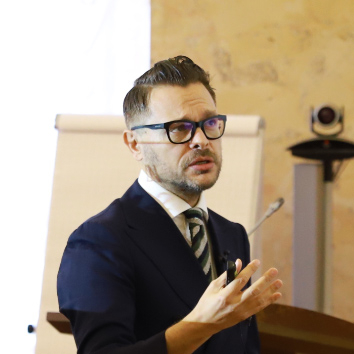 Ivan Tchakarov, Citibank, Head of Russia/CIS Economics
Ivan has covered Russia and the region for more than 10 years now at Citigroup, Renaissance Capital, Bank of America Merrill Lynch, Nomura and Lehman Brothers. He has been awarded for the accuracy of his forecasts by ConsensusEconomics, FocusEconomics, etc. He started his professional career at the International Monetary Fund in Washington, D.C. There he worked in the Research Department, building large-scale macroeconomic forecasting models, and the Asian Pacific Department, where he was the Lead Economist for Thailand, Myanmar and the Maldives. He has numerous publications in scholarly journals in the area of open-economy macroeconomics and has appeared on CNN, CNBC, Bloomberg, Reuters TV, Russia 24, RBC and others. He has been quoted in the FT, WSJ, NYT, The Economist and writes regularly for Vedomosti, the main Russian business daily.

Ivan holds a Ph.D. in Economics from the University of California, Davis, in the US. He also has a MA in Transition Economics from the Central European University in Budapest, Hungary.