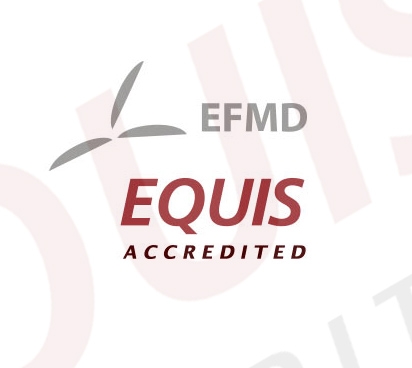 According to the decision of the Awarding Body of the European Foundation for Management Development (EFMD), EQUIS re-accreditation has been granted to GSOM for the next 3 years.
The Institutional accreditation EQUIS (European Quality Improvement System) was established in 1998 by the European Foundation for Management Development (EFMD). EQUIS is one of the three accreditations forming the so-called "Triple Crown" of Management Education, which is a global standard for business education quality.
EQUIS assesses institutions as a whole: not just individual degree programmes, but all of the activities and sub-units of the institution, including research, e-learning units, executive education provision and community outreach.
EQUIS accreditation is granted to business schools and faculties of universities, providing business education, which meet its strict quality criteria. The main emphasis when awarding the accreditation is placed on three criteria:
high quality of all ongoing educational programs and systems management,
a high degree of internationalization of business schools, as well as
close ties between the educational process and the business community.
EQUIS looks for a balance between high academic quality and the professional relevance provided by close interaction with the corporate world. It also looks for innovation in all respects, including programme design and pedagogy.
Accreditation by EQUIS – the stamp of approval by a recognized global expert community, has verified the highest European standard of business education at GSOM SPbU since 2012
In November 2011, GSOM SPBU successfully passed the first stage of admission to the accreditation process through an external audit by EFMD. In October 2012 GSOM SPbU welcomed the first international commission, or Peer Review Team (PRT), for a detailed assessment of management processes and program quality. At its meeting of December 11, 2012, the Awarding Body voted to grant EQUIS re-accreditation to the Graduate School of Management of St. Petersburg University for three years.
Three years later, in October 2015, GSOM again welcomed a Peer Review Team consisting of four international experts in the field of business education. In addition to the criteria checked earlier, the Commission assessed the progress of the business school in achieving the performance indicators set out after the first audit. On December 15, 2015, based on the results of the report of the PRT, the EQUIS Awarding Body decided re-accredit GSOM SPbU for the next three years.
The Graduate School of Management of Saint Petersburg University was the first and is still the only business school in Russia and the CIS countries, which has been awarded the most prestigious international accreditation EQUIS. This confirms that GSOM is a business school, which not offers only high general quality in all of its activities, but also has achieved a high degree of internationalization, which ensures that its graduates have the skills and knowledge to meet the needs of top employers, both nationally as well as internationally.