Alina Verbenchuk graduated from the Graduate School of Management at St. Petersburg University (GSOM) and left for Poland to work for Google. Alina is currently responsible for operational work with partners in the European region on YouTube. In an interview, Alina told how to build a career in IT without a technical background, and why you should not be afraid of responsibility.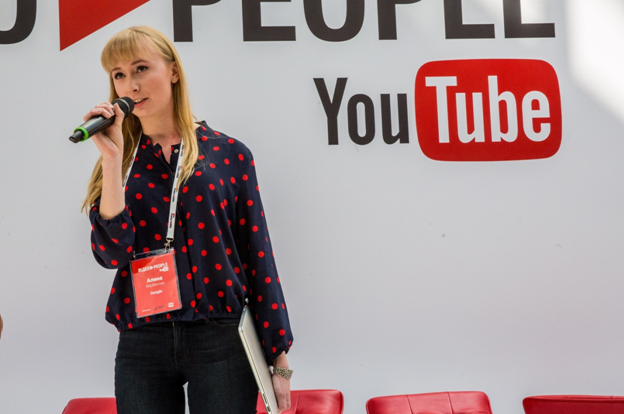 - You graduated from the Faculty of Oriental Studies, and then graduated from the Graduate School of Management SPbU. Tell me how to get to work in IT without a technical background?
- Try to take the maximum from university courses. If you feel that the course does not 100% satisfy you, do some additional project work, or join a startup. There is perhaps the opportunity to go do an internship somewhere — go do it. It doesn't matter if you get paid at first or not. This experience will give odds to other guys if it relates to the technological field. Let it be some kind of small IT company, let yourself be engaged in something that may not be your dream, but can give you a good experience. For example, in my last year I was invited to join a startup. It was very small, but he gave me a lot as a professional: from product management to team management.
- And what is the hard part of starting to work for Google?
- The main difficulty is probably to go through a huge number of of applications if you do not have a referral or recommendations. The competition is pretty tough. The second difficult task is to go through an interview, and here it is worth considering how new employees are selected at Google. I advise you to read the book "How Google Works", I only read it, after I already was working in the company. But it gives a pretty good description of how Google selects candidates, how the interview process goes and how it all lined up.
- What experience and skills help you in your work?
- I participated in many student projects, where I had the role of either the main organizer, or the chairman, or the founder. That is, I was such a semi-entrepreneur. And it seems to me that the approach of "ownership" — that you can take responsibility is very useful. The further you go, the more important your leadership skills will be. In the junior positions, no one expects global leadership from you, but as a result, those people who do more than is required or expected and somehow look at things in a different way will have the advantage in the future.
- And how to develop this ownership approach?
- Do not think that someone owes you something. Do not wait for the company to bring you everything on a silver platter or that the manager will take care of you. Compared to Europeans, for example, we have to work harder for some opportunities due to visa restrictions. Therefore, do not expect, that building a career will be easy. But at the same time, optimism is needed: do not give up and get going - develop your career. This is the first moment.
The second point: it is necessary to take responsibility for some project or initiatives. You must have the initiative. Leadership belongs to those who take it.
- In addition to work, you have managed to develop your own project in career counseling and mentoring. Tell us how it appeared and what is its purpose.
- Since my graduation from GSOM SPbU, many students have contacted me with questions about how to write a resume, how to get an interview, what to do with a career? And I gradually began to advise people on the Evisors.com platform. There was a demand for my skills, and suddenly I realized that, in fact, this is knowledge that is worth transmitting. The second story is mentoring. I participated in various scholarship programs and projects where other people played a very large role. They taught me things, helped, shared something with me, or simply were an example, and I thought: "I want to be like them!" It motivated me very much.
Mentoring is now actively developing: there is a demand for consultants, coaches, psychotherapists and, in general, people who are involved in mental development, if I may say so. In my opinion, there is a need for mentors who will help you grow precisely professionally, like mentors. Large companies are trying to create mentoring institutions, but not everywhere. So I came up with my own project, it's called Verbetcetera. Now we have a group of mentors that we are developing and preparing for them to continue working as professionals.
- What inspires you at work, what would you like to do in the future?
- I am very inspired when I can change someone's life for the better due to my knowledge. For example, we corrected a person's resume, and he or she went to some top company. Or after the consultation, they just looked at themselves differently and decided: "Wow, but I'm actually done!" Basically, many people come with a mess in their heads: "I did something here ...". And then you show them that what they did here was cool, that they did something else cool there, so - let's tell other people about it. And they will already have a different attitude when going to look for job. These stories are very inspiring.
In the future, I probably would like to have my own business. Or rather, I would like to concentrate on the problem. I am very worried about the issues of education - even since NSU and GSOM SPbU. Issues of social mobility, that is, education as a social elevator. So mentoring is partly related to this.
- Is it possible to strike a balance between work and personal life in London?
- Yes, it is. My work day lasts on average up to 6 or 7 in the evening, but then I start to engage in my project. If you want to do some projects within the company, "launch rockets into space", this can be done, but not without work / life balance. But in the culture of the company, the team is promoting the idea that you should be able to relax. You find yourself among similarly motivated and talented people. For example, at GSOM SPbU everyone is sitting in the library until closing time, and at work they will be sitting at their office desks. And your task is to deal with this peer pressure. Understand exactly what your strong skills is, where you want to move. To do this, you may just need the help of a mentor.
- How do you get distracted from work, do you have time for hobbies?
- Now there are fewer of them, my project is my hobby. In general, dancing and sports have always helped me: either a choreography room, or a gym, or running. When I was studying during exchange my semester in Hong Kong, I had a very good running track. And now, wherever I live, I try to live near a park. For me, running is like dynamic meditation. Good literature helps too.
- What books do you recommend?
- If you want to learn about the ins and outs of IT business, you can read the "Chaos Monkeys" by Antonio Garcia Martinez, but it's a bit scandalous, hype. I know that many condemn Ayn Rand, and although I do not quite agree with her philosophical concept, I like her book, The Source. The theme of "creator" and "ownership" is well revealed in it, so to speak. I like all Russian classical literature, my soul rejoices when I read it. From the recent books that I have read I can recommend Yuval Noah Harari "21 Lessons for 21st century". This book is at the junction of social science, anthropology, politics, economics.
- What do you think, what values help you move towards your goals?
- Oh, this is my favorite question - making the world a better place no matter what you do. Benefit, remain truthful and honest in any situation. And giving opportunities to others through education and mentoring. Break down the boundaries in all of the heads around you: first in your own, and then in the heads of other people.