Pavel Myasnikov is a second-year Master in Corporate Finance (MCF) student, an alumnus from the Law Bachelor program at St. Petersburg State University before GSOM. After graduation, Pavel took a gap year, during which he was preparing for a Master degree. In an interview, he talked about the benefits of studying for a Bachelor degree, the synergy of legal and financial education, and courses that helped him dive into the financial sphere faster during the exchange in Vienna.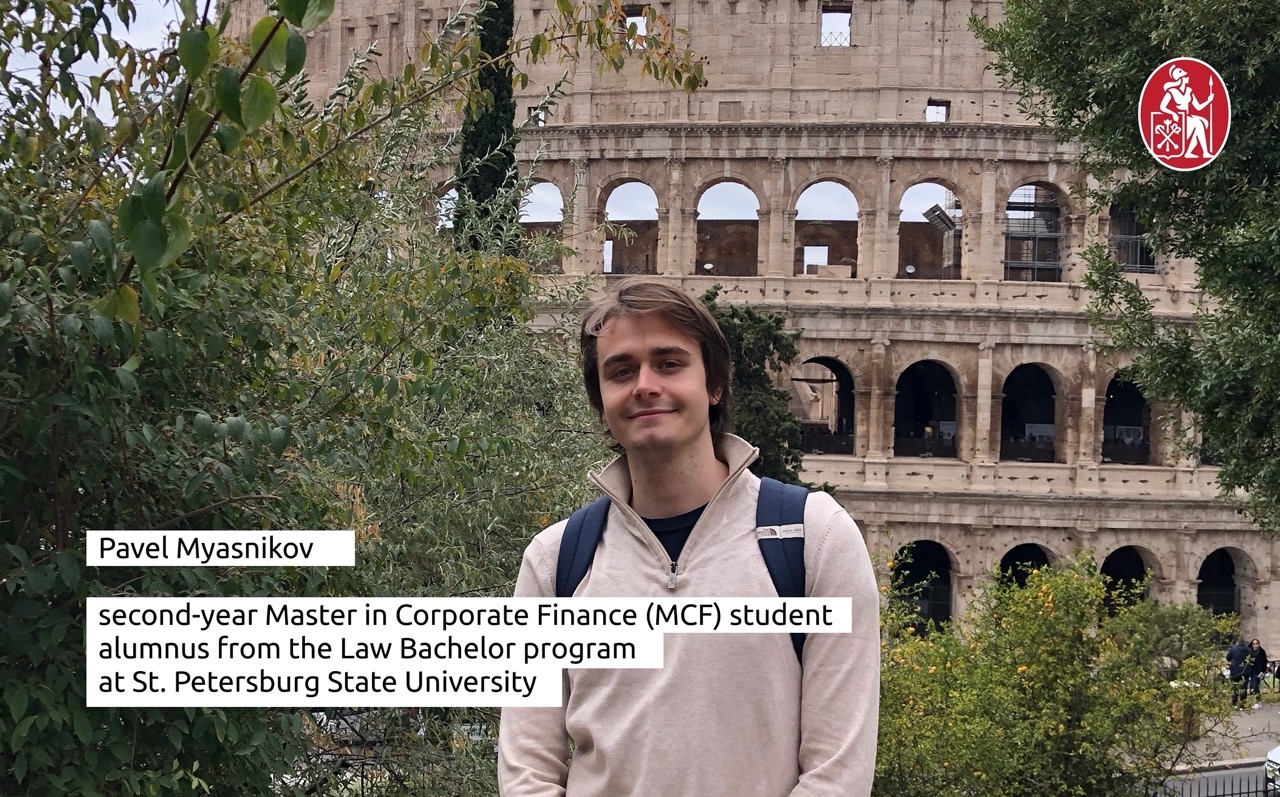 How did your path at the University in the bachelor program begin?
In 2015, I entered the Law Bachelor program of St. Petersburg State University. At that time, I was considering management, finance, economics, and law. In particular, I paid attention to the GSOM SPbU, but due to my inexperience, I thought that all Bachelor programs were only in English, I did not delve into the study of this issue. After school, my English level would be absolutely insufficient to study. Now I think choosing a direction related to economics and finance would be somewhat more correct, but I do not regret my choice.
Why did you choose the Law program?
The Faculty of Law of St Petersburg University is the strongest in Russia. This is my opinion, even if some disagree with it, I also have many arguments. This education, however, has several disadvantages. For example, one of the most noticeable is general stress and, on average, low grades at midterm certifications. This, on the one hand, puts pressure, on the other hand, leaves the alumnus forever "hungry": the strongest part of my Bachelor classmates, as evidenced by their professional achievements, can "burn out" the market and "teach lessons to Harvard conceits." We were raised to be the best and taught to do the job perfectly (ed. - quote from the TV series "Suits" about American lawyers, very popular among law students).
In law, "hard skills" are very much mastered. I would give this advice: if you don't know where to go, go to law: this is an excellent classical education, and definitely not a lost time.
How did you see your future after the Bachelor program?
In the first year, I thought that I would develop my law firm after university. In the third and fourth years, I devoted a lot of time to learning: early in the morning, my classmates and I came to the library, read a lot, studied — about 4,500 pages a year were learned. I didn't think about the prospects of knowledge realization at that time. On the fourth, I went to work at a startup as a lawyer and junior analyst. It was a discovery that there is something beyond the law library, and I realized that I was interested in it.
You had a gap year. Did it happen by accident or planned?
It was necessary for me to expand my knowledge in management, economics, and finance, to strengthen them to enroll on a budget in the Master program at GSOM.
Why did you choose the Master in Corporate Finance at GSOM SPbU?
Five of my friends entered The Graduate School of Management St Petersburg University after Law School. It turned out that I heard much more about studying at GSOM SPbU than about other areas or universities. Secondly, in other areas, a portfolio is necessary for admission; it is difficult to collect it when you are no longer a student and are not engaged in research. And at GSOM SPbU, it was only necessary to pass exams — it seemed easier to learn, come and answer. And finally, I wanted to choose a Master degree as broad as possible, not specializing in any particular direction. In the first year, we had an extensive course in mathematics, later in corporate finance. It is conducted, in my opinion, by one of the best professors of GSOM SPbU — Alexander Andrianov. He helped me to create the foundation of the most necessary knowledge. When I came to GSOM SPbU, I didn't even know how to handle databases in Excel, but during the course by Alexander Andrianov, I learned everything: how to work with tables and financial instruments — options, futures, forwards.
Is the synergy of legal and managerial education in finance possible? Do they complement each other? What are the intersection points?
Legal and financial education are very different. I have not yet had the opportunity to put into practice knowledge from several fields at once. But, in my opinion, such synergy is possible at higher levels. For example, when you are the CEO of a company.
Simply, legal education skills are the ability to read the law and the contract. This gives great courage in working or business issues.
You were recently on an exchange in Austria. Tell us what courses you chose. Would it be a good addition to your main training program?
When I arrived, I was offered 480 courses to choose from. I chose logistics, tax law, innovation management, and risk management. In part, the training programs coincide with the requirements of GSOM SPbU, but at the same time, I have significantly expanded my horizons. For example, the logistics course allowed me to understand its internal mechanisms. I didn't have a lesson on taxes in my bachelor's degree, but now I have a project related to them in my work.
What knowledge has already been applied in practice?
When I came to GSOM SPbU, it was difficult for me, but at the same time, I passed everything the first time. After I started working part-time, I joined a consulting project as a junior analyst. I was engaged in financial models for almost a year, trying to draw presentations. After that, I moved to a venture fund. Now I am involved in venture analytics; it is not directly related to the hard skills of corporate finance. I assume that in the venture industry, I have not yet grown up to solve such tasks: colleagues are engaged in them, on average, for 30 years, with ten years behind them.
On the other hand, I could go to the "Four" of the audit and immediately apply the hard skills obtained at GSOM SPbU.
However, thanks to GSOM SPbU, I understand finance: I can look at the financial model and understand how revenue differs from net profit and income. Of course, there are "hard skills" that I haven't had time to apply yet since it's too early and I have a slightly different field, but at the same time, I have a good general understanding of finance and economics, building work.
What are your plans after graduation?
There is an offer for a startup in Berlin, but I need a diploma in my specialty to get a work visa. Well, globally, I want to continue working in the venture direction. Soon, I plan to launch my analytics project in the venture.