Elvira Vitausovna Strakhovich
Associate Professor, Department of Information Technologies in Management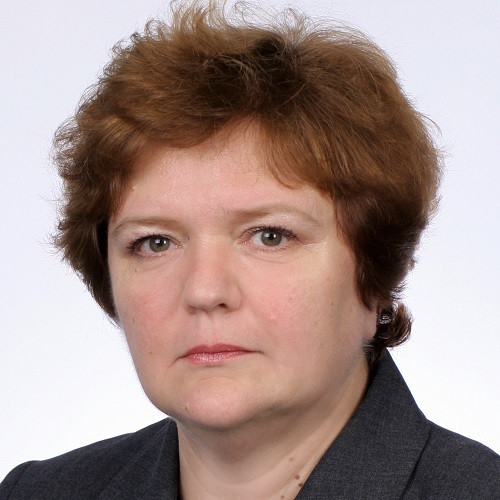 Courses
IT Project Management (Bachelor Program)
Corporate Information Systems (Bachelor Program)
Information technologies in Human Resource management (Bachelor Program)
Project Management (Master Program)
Big Data Project Management (Master Program)
Managing Government Information Technology (Master Program)
EDUCATION AND ACADEMIC DEGREES
SAP Certified Business Associate with SAP ERP 6.0, SAP, Certificate ID: 0009686191, July, 2012
TERP 10 SAP ERP - Integration of Business Processes, Saint-Petersburg State Polytechnical University, Certificate ID: 1740/12, July, 2012
Managing IT Projects, School of Business, the George Washington University, August, 2008
Project Leadership, Management and Communications, School of Business, the George Washington University, August, 2008
Candidate of Science (Physics & Mathematics), SPIIRAS, 1990
Specialist Degree in Mathematics, Leningrad State University, 1980
RESEARCH
Project Management
IT Management
Knowledge Management
IT in education
ACADEMIC AND ADMINISTRATIVE POSITIONS
Academic positions
2017 – present – Associate Professor, Information Technology in Management Department, Graduate School of Management, St.Petersburg State University
Administrative positions
Member of Educational Programs Committee SPbU, Economics and Management, 2018-2020
Member of the independent expert commission for assessing the results of self-examination of St. Petersburg State University in terms of the implementation of basic educational programs (2018)
OTHER PROFESSIONAL ACTIVITIES
Senior Researcher, SPIIAS, 1985-1998
Project/Program Manager In ZAO Motorola, 1996-2009
IT Project Management Trainer in IT-Companies, 2010-2015
Member of Asia-Pacific Society for Computers in Education (APSCE), 2010-2017
Member of Project Management Institute (PMI), since 2012
Member of IEEE Association, since 2012
Member of Association for the Advancement of Computing in Education (AACE), since 2016
SELECTED PAPERS AND PUBLICATIONS
Papers in Academic & Professional Journals
Visual-analytical thinking and mind maps in ontological engineering // Design Ontology, 2020. V. 10. № 1 (35). P. 87-99. (with Gavrilova T.A.)
Application of the design thinking method in the study of information technology in a business school // Informatics and Cybernetics. Donetsk, DonTU, 2018, 4(14)
Business models evolution in a context of multi-sited platforms use for micro-enterprises // Upravlenets, 2017, №4(68), с. 53-60 (with Serola L.S., Churakova I.Yu.)
Blended learning experience in business school // Informatika and education. 2016. № 4 (273)
Gestalt Principles of Creating Learning Business Ontologies for Knowledge Codification // Knowledge Management Research and Practice, 2015, 13(4) (with I. Leshceva, T. Gavrilova).
The Usage of Visual Conceptual Models in Teaching // Vestnik (Herald) of St. Petersburg University. Management Series. 2011. Issue 1. P. 124-150 (with I. Leshceva, T. Gavrilova).
Two-Component Parsing Model and Its Implementation // Journal of Computer and Systems Sciences International. 1997. No. 5. P. 48-52.
Chapters in Books and Collections of Essays
Design Thinking in Management Education: Case Studies from Lessons // Design Thinking and Innovation in Learning / Ed.: Taricani, E. - Emerald Publishing Limited, Bingley, 2021. p. 71-82
Using Smart Education together with Design Thinking: a case of IT product prototyping by students studying management // Smart Innovation, Systems and Technologies. / Ed.: Uskov, V. - Springer, Singapore, 2020. Т. 188. p. 245-253
The use of blended learning in the development of IT competencies of students // Business Management in the Digital Economy: Challenges and Solutions / Ed.: Arenkova I.A., Lesina T.A., Tsenzharik M.K., Chernova E.G.- SPbU, 2019. — 360 p. P. 305-319
Project Management Basics. St. Petersburg: GSOM Publishing, 2010, 2011 (with I. Leshceva)
Information technologies in management: base course. St. Petersburg: GSOM Publishing, 2014. (with K.Zhukova & I.Leshcheva)
Conference Papers
Usage of Design Thinking for soft skills development // EdMedia + Innovate Learning 2019, Amsterdam, Netherlands: Association for the Advancement of Computing in Education (AACE). C.49-52
Application of the design thinking method in teaching IT project management // Software engineering: methods and technologies for the development of information and computing systems (PIIVS-2018). II International Scientific and Practical Conference. 2018. p.20-25
System analysis in design and management // XXI international scientific and practical conference June 29-30, 2017, St. Petersburg, 2017. с. 226-234 (with Gavrilova T.A.)
How students-managers use design thinking to collect IT-project requirements// 15th International Conference on Cognition and Exploratory Learning in Digital Age (CELDA 2018)
Students' motivation in blended learning environment: practical experience // E-Learn: World Conference on E-Learning in Corporate, Government, Healthcare, and Higher Education, 2016 https://www.learntechlib.org/p/174133/
Evaluating сourse content and student performance via lightweight ontologies // Proceedings of the European Conference on Knowledge Management, ECKM, 2016.
An experience in the blended learning in the course aimed at the development of IT competence // International Conference on Information Technology Based Higher Education and Training, ITHET, 2015, Publisher: IEEE, DOI: 10.1109/ITHET.2015.7218019
Cognitive Aspects of Educational Ontologies Design // New Trends in Software Methodologies, Tools and Techniques. Proceedings of the Tenth SoMet_11. IOS Press, 2011 (with T. Gavrilova).
Ontologies usage in the Course "IT Project Management" // Sustainable Development of Russian Regions: Man & Modernization. Proceeding of the 8th International Research Conference on the Issues of Economic Development in Modern Society. Ekaterinburg, USU Publishing, 2011.
Ontologies for Project Management Teaching // The 18th International Conference on Computers in Education. Universiti Putra Malaysia, Malaysia, 2010 (with T. Gavrilova, I. Leshceva).
Ontologies Development for IT Project Risk Management Teaching // Semhe'10: The Second International Workshop on Semantic Web Applications in Higher Education. University of Southampton, Southampton, UK, 2010 (with T. Gavrilova, I. Leshceva).
Other professors
OF THE DEPARTMENT
Don't miss out
ON IMPORTANT GSOM NEWS!
✖Programs