From April 4 to 6, Management of the Future Conference was held at "Mikhailovskaya Dacha" campus. Students from Moscow, Kaliningrad, Samara, Novosibirsk, Minsk and other cities came to St. Petersburg. The main theme of the event was the economy of knowledge. Participants presented business case solutions, discussed digital transformation challenges, data privacy, the usage of big data in business and other topics with representatives of companies, as well as participated in master classes and panel discussions.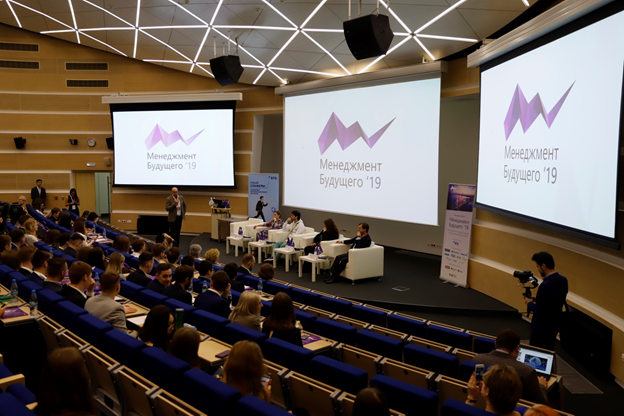 Students from Russian and foreign universities participated in the conference
In the main panel session Deputy President and Chairman of VTB Bank Management Board Olga Dergunova, Director of Business Development and Corporate Venture Projects of Severstal Andrey Laptev, Managing Director for Strategy & Organizational Development of MegaFon Alexander Sobolev and Head of HR development department of Lenta Margarita Titova took part. They discussed digital transformation challenges.
Students participated in this discussion as well. They wanted to know what experts think about Yandex and Sberbank recent collaboration, agile methods adaptation, venture funds' development and the benefits of fundamental knowledge over coding. At the end of the discussion each speaker gave students a piece of advice on how to build successful career.
According to Alexander Sobolev it is necessary to look at your potential manager and colleagues. "Because if you want to learn something you will learn from people you work with", he explained. Margarita Titova advised the students not to be afraid of making mistakes: "Only mistakes can lead you forward. Success in this sense is quiet insidious". Andrey Laptev thinks that it is necessary to learn more about the company you are going to work in and questions that are important for people who work there. Olga Dergunova's advice was about studying related disciplines and mathematical analysis.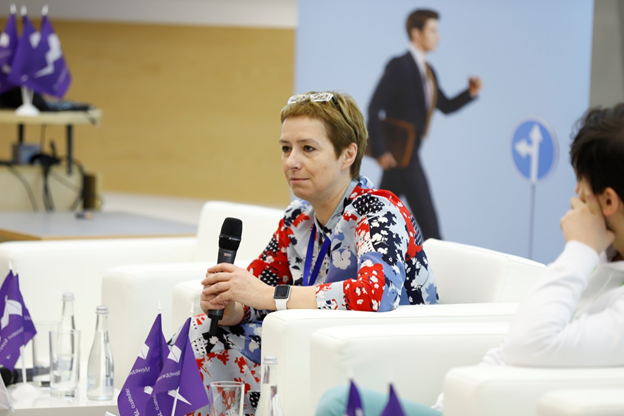 Olga Dergunova: "It is important to clearly understand what you are changing: are you changing the foundation of a business and creating another service or are you creating another way of implementing an existing service."
During the first day an open interview about cyber security was held. Among the speakers were: Director of Brand Protection of Group-IB Andrey Busargin, Chief Technology Officer of IBM Russia/CIS Nikolay Marin and Lead Software Engineer of Lanit-Tercom Artur Khanov. The discussion was moderated by managing partner of Mindsmith.io Ruslan Yusufov. Students asked questions about information leaks, state control over the Internet and digital banking.
According to experts, data security situation is complicated. Speaking about the protection from information leaks and scandals Andrey Busargin advised to think about what you are doing in the Internet, which webpages are you visiting and not to trust anyone except yourself. Nikolay Marin suggested changing all passwords to crypto-resistant with the help of a password aggregator, and Arthur Khanov recommended not use gray databases.
The Management of the Future Conference is held for the eighth time. The main theme of the event is the economy of knowledge. The Conference will last two more days. On April 5 and 6, participants will be given lectures from SIBUR and MegaFon, workshops from VTB Bank and Gazprom Neft, solve cases and participate in a job fair.