In September 2015 the new GSOM SPbU campus "Mikhailovskaya Dacha" comes into operation.
Mikhailovskaya Dacha is a unique historical place combining classic architecture and innovations, natural landscape and advanced technologies.
| | | |
| --- | --- | --- |
| 165 years | | Palace and park complex celebrates in 2015 |
| 2000+ | | seats in the classrooms of the Main Academic Building (former Stables Building) |
| 1000 | | seats in the canteen of the new Student Club Building |

The New History of Mikhailovskaya Dacha
November 29, 2006 - The Campus Groundbreaking Ceremony with Vladimir Putin, President of the Russian Federation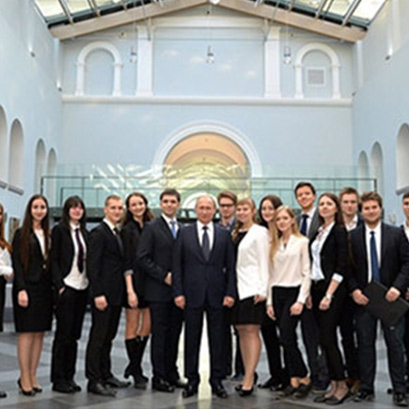 April 27, 2015 - Vladimir Putin, President of the Russian Federation, visited the ready campus and met with students

GSOM SPbU CAMPUS TOUR: 360 VR

Mikhailovskaya Dacha Today
The Main Academic Building (Former Stables Building):

Conference hall for 450 seats
4 rooms for 120 seats
15 rooms for 60 seats
6 rooms for 40 seats
More than 250 rooms of various size
Room booking for individual student work available
Plasma screens with schedule at every room
Full set of equipment – projectors, screens, Wi-Fi and sync translation
Total building area 20 120 sq.m.

Conference Hall

450 seats
800 sq.m
Comfortable seats with laptop tables
Sync translation equipment for every seat
3 multimedia projectors and screens
Wi-Fi
Complete set of conference equipment

Class Rooms

More than 250 rooms
4 rooms for 120 seats (amphitheater, sync translation equipment, 2 projectors, 2 screens)
15 rooms for 60 seats (2 projectors, 2 screens)
6 rooms for 40 seats (2 projectors, 2 screens)
4 computer rooms (2 rooms for 22 working places, 2 – for 18)
Small rooms from 8 to 12 seats for various purposes

Student Club Building

Total area 4 960 sq.m.
Student café for 1000 seats
Event venue – stage with mobile walls and cutting-edge clubing and event equipment, total area 400 sq.m.

Dormitories

Dormitories for GSOM students of Bachelor of Public Administration and Management programs will be open by the beginning of the 2021/2022 academic year.

Address and Contact

History We Are Proud Of
Initially Mikhailovskaya Dacha was a summer residence of the family of Grand Duke Mikhail Romanov (1850 – 1917).
The architectural and natural landscape was developing under guidance of the leading architects of the 19 century – Andrey Stakenschneider, Josef Charlemagne, Harald Bosse. The complex of Mikhailovskaya Dacha included the Grand and Small Palaces, Kitchen Building,
Hoffmeister Building, Stables Building, Gardener's Building, Flower and Fruit Greenhouses.
A small exquisite church of St. Olga (named after the saint patron of the wife of Grand Duke Mikhail, Grand Duchess Olga) was erected by a prominent architect David Grimm in 1864 in the depth of Mikhailovsky park.
5 interesting historical facts about Mikhailovskaya Dacha and its inhabitants:
Grand Duke Nikolay, the first son of Grand Duke Mikhail, was an outstanding scientist, member of the French Academy, Chairman of Russian Historical Society. He wrote fundamental works on Russian history and established the first collections of Russian painting which started the famous Russian museum in St. Petersburg.
Grand Duke Mikhail, the second son of Grand Duke Mikhail, married against the will of his father. His wife was Sofia de Merenberg, the granddaughter of the great Russian poet Alexander Pushkin. He was exiled from Russia for this illegal marriage. His daughter Anastasia founded a Pushkin's museum in Bedfordshire, Great Britain.
Grand Duke Georgy, the third son of Grand Duke Mikhail, was a great connoisseur of arts. He was a founder of the Russian museum in St. Petersburg and became its Managing Director since foundation.
The major merit of Grand Duke Alexander, the fourth son of Grand Duke Mikhail, was creation of Russian military aviation. Jointly with famous Russian (afterwards – American) aircraft designer he managed to develop the first military air army.
In Geneva, Switzerland we can find a twin of St. Olga Church. It's the Church of the Exaltation of the Holly Cross, the only difference is that it has 5 cupolas. Architect David Grimm built many churches in Nice, Copenhagen, New York.