Elena Kirillovna Zavyalova
Professor, Department of Organizational Behavior and Personnel Management
Head, Department of Organizational Behavior and Personnel Management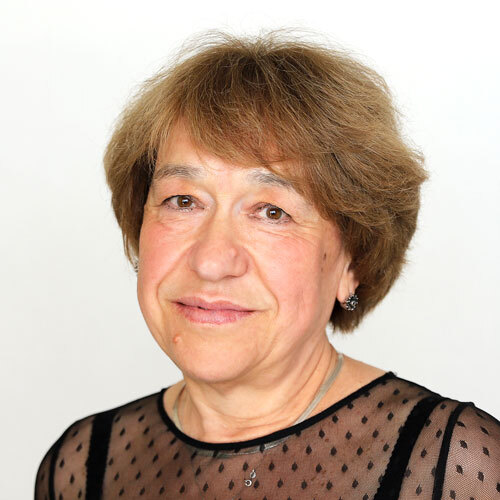 Courses
Psychology of Success Achievement (EMBA)
Motivation and Reward Systems (Bachelor program)
Human Resource Development (Bachelor program)
EDUCATION AND ACADEMIC DEGREES
Doctor of Science (Psychology), St. Petersburg State University, Faculty of Psychology, 1998
Candidate of Science in Biology, Military Medical Academy, 1980
Diploma of Specialist of Psychology , St. Petersburg State University, Faculty of Psychology, 1974
RESEARCH
Economic Psychology
Organizational and Psychological problems at HRM practices
Human Resource Development in Russia and the Former Soviet Union
Innovative Human Resources Management/Development technologies in the New Economy
OTHER PROFESSIONAL ACTIVITIES
Member of the editorial board of "Human Resource Development International", 2016 -;
Member of the editorial board of "The International Journal of Human Resource Management", 2007–;
Member of Russian Psychological Society, 2000–;
Member of Academy of Human Resource Development, 2008–;
Member of International Association for Research in Economic Psychology, 2007–;
Expert of EC TACIS Project, 1996-1997;
Scientific editor of Russian editions of R. M. Belbin «Management Teams: Why They Succeed or Fail», M., 2007; Max Lusher «The Lusher Color Test», M, 2002.
Consultant of several Russian and international companies: "Shell", " Lenenergo", "Admiralteyskie shipyards", "Watercanal" and other.
SELECTED PAPERS AND PUBLICATIONS (90)
Books, Monographs and Textbooks
Human Resource Development Management , SPbU, 2017 (with M. Latukha)
Human Resource Development in the Russian Federation (with A. Ardichvili), Routledge, 2016
Psychology of Success. SPb., GSoM, 2009.
Psychology of Entrepreneurship (with S. Posohova). SPb., GSoM, 2004.
Comparative Psychology. M-SPb, Sova, 2004.
Papers in Academic Journals
Human resource management systems and intellectual capital: is the relationship universal in knowledge-intensive firms? International Journal of Manpower September 2020 DOI: 10.1108/IJM-11-2018-0372 (Sokolov D).
Agile vs traditional project management approaches: Comparing human resource management architectures. International Journal of Organizational Analysis, https://doi.org/10.1108/IJOA-08-2019-1857 (Sokolov D., Lisovskaya A.).
Personnel Development in Chinese Innovation-Active Companies.Foresight and STI Governance, 2018, vol. 12, no 3, pp. 43–52 (Alsufyev A., Krakovetskaya I., Lijun W., Li J.)
Approaches to HRD in Russian IT-Companies in the Period of Economic Crisis. HRDI, 2018, 21(4) (with Kucherov D.G., Tsybova V.S.)
Human Resource Management at Russian Companies — Leaders of the Global Economy. Foresight and STI Governance, 2017, vol. 11, no 4, pp. 52–61. (with Kucherov, D.G., Tsybova V.S.)
Assessing the efficiency of HRD practices in knowledge-intensive firms. Human Resource Development International, 2013, 16:5, 590-598 (with Kosheleva S)
Human capital development: comparative analysis of BRICs. European Journal of Training and Development, 2012, Vol. 36, No.2, pp.213-233 (with А. Ardichvili & V. Minina).
Work meaning among mid-level professional employees: A study of the importance of work centrality and extrinsic and intrinsic work goals in eight countries. Asia Pacific Journal of Human Resources, 2011, 49(3) 264–284 (with P. Kuchinke, A. Ardichvili, M. Borchert, & E. Cornachione).
Human Resource Management and Development Practices in Indigenous Russian Companies and Foreign MNCs: a Comparative Analysis // Human Resources Development and Management. 2011. No 2–4. P.179–193 (with A.Ardichvili, S.Kosheleva).
Relationship Between Organizational Culture and Job Satisfaction in Russian Business Enterprises // Human Resource Development International. 2010. Vol.13, N 2. P. 225–235 (with D. Kucherov).
Gender Stereotyping and its Impact on Human Capital Development in Contemporary Russia // Human Resource Development International. 2010. Vol.13, N 3. P. 341–349 (with S. Kosheleva).
Assessment of Labor Behavior Factors and Selecting Line Managers' Lines of Development at Russian Industrial Enterprises // Journal of European Industrial Training. 2009. Vol.3. P. 271–296 (with S. Kosheleva).
Management by Values as a Core Toole of HRD during the Economic Transition: an Example of Russian Enterprises // Human Resources Development International. 2009. Vol.12. P. 449–457.
Papers in Professional Journals and Chapters in Books and Collections of Essays
National human resource development strategies: comparing Brazil, Russia, India and China. International Human Resource Development (3rd edition), Ed. by John P.Wilson, KoganPage, 2012, 177-195
Employment Equality and Diversity Management in a Russian Context. International Handbook on Diversity Management at Work: Country Perspectives on Diversity and Equal Treatment (2nd edition). Edward Elgar Publishing, Chapter 13. Edited by Alain Klarsfeld , Lize A.E. Booysen , Eddy Ng , Ian Roper , Ahu Tatli, 2014, 217-240
Human Resource Management in Russia, Central and Eastern Europe. Handbook of Human Resource Management in Emerging Markets. Eds. F. Horwitz, P. Budhwar. Edward Elgar Publishing. 2015, 357-371
HRD in Russia and the Former Soviet Union. Global Human Resource Development: Country and Regional Perspectives Еdited by Thomas Garavan, Alma McCarthy, and Michael Morley, Routledge, 2016, 289-306
Leadership Development in RF. Leadership Development in Emerging Market Economies, Еdited by A.Ardichvili and K.Dirani, Palgrave, 2017, 37-54
INTERNSHIP ABROAD
Haas School of Business, California University, Berkeley, 2007
SSVCH, Stocholm , Sweden, 1999
ABU-Consult GmbH Berlin Germany, 1997
IPU Munchen Germany, 1991
Academy of Management Graaz Austria, 1990
HONORS AND AWARDS
The letter of gratitude from Olga Dergunova, Deputy President and Chairman of VTB Bank Management Board, GSOM SPbU Director, for academic leadership of "Management essentials" program (2021)
Government award "Honorable Worker of Higher Professional Education of Russia", 2003.
Grants:
"Psychological resources of professional self-realization and social success of adults in the context of the concept of lifelong education", RFBR grant No. 20-013-00427 \ 20
Particularity of HRM in agile-companies IAS_16.23.1458.2017
HRD as a factor of competitiveness of emerging market firms IAS_16.23.1842.2015
HRD as a factor of international competitiveness of Russian companies: conceptual framework and management technologies IAS_16.23.1698.2014
Other professors
OF THE DEPARTMENT
Don't miss out
ON IMPORTANT GSOM NEWS!
✖Programs