Master in Urban Management and Development – MUMD

About the program Master in Urban Management and Development

With the rapid development and strengthening of new public management concept in Russia both public and private sector increase the demand for highly qualified specialists in the field of public management, which possess a unique set of competencies and management skills to address the strategic objectives of regional and urban development.
The GSOM SPbU Master in Urban Management and Development program is focused on the preparation:
Highly qualified managers for regional and urban administrations;
Analysts and consultants for non-governmental think tanks and international consulting agencies, specializing in regional and urban development;
GR (government relations) experts for private sector companies.
To know more about the program, please take part in the presentation.

Duration: 2 years
Language of instruction: English and Russian
Full-time
Learning basis: The budget and contract (tuition fees and scholarships)
Start date: September 1, 2016
Degree: Masters

| | |
| --- | --- |
| | Mission |
The mission of the program lies in preparing highly qualified professionals able to apply effectively analytical, research and leadership qualities, as well as unique knowledge to solve problems and improve competitiveness of regions and cities of Russian Federation, based on modern principles and best practices in public management.

| | |
| --- | --- |
| | Master in Urban Management and Development program peculiarities |
Unique content of the program

Unique content of the program, with a focus on the study of effective forms of interaction between public and private sector to meet the challenges of territorial strategic development (public-private partnerships, smart cities, etc.). Particular attention is paid to the development of analytical skills, leadership qualities, and ability to think systematically and strategically.

International faculty

International faculty, including Russian experts in the field of public administration, experts from Russian analytical centers, as well as guest lecturers from leading universities, business schools and schools of public administration.

Studying abroad in a partner institution in a single semester
Students have the unique opportunity to spend one exchange semester abroad at a leading university / business school / school of public administration from the extensive list of the GSOM SPbU academic partners.
Practical orientation
Practical orientation, supported by cooperation with leading analytical centers, federal agencies and regional administrations. Students are getting familiar with best practices in urban and regional development through case studies and guest lectures. Practical skills are enhanced through:

Performing of consulting project;
Taking summer internship in one of the analytical center or regional / city administration;
Writing project-oriented Master's thesis.

A unique educational environment

Students get free access to a rich electronic library of academic and business titles from all the world's major publishing houses

| | |
| --- | --- |
| | Structure of the program |
The academic plan of the program covers 4 semesters and includes compulsory and elective courses, series of professional skills trainings, research seminars, summer internship, consulting project, writing a master's thesis. The majority of courses are taught in English. There are some compulsory courses that are taught in Russian.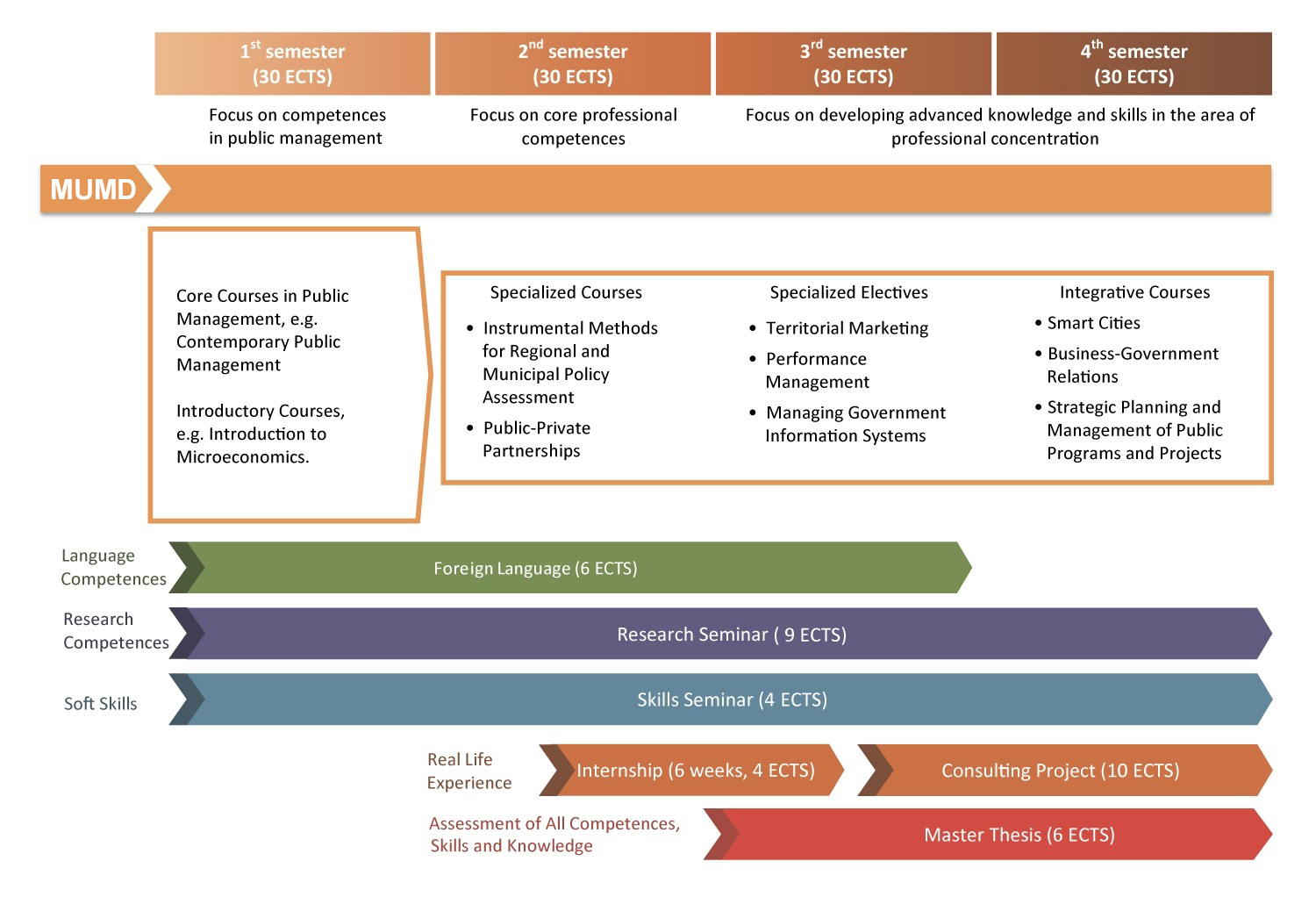 | | |
| --- | --- |
| | Students' retention rates |
Year
UPM
Enrolled
Completed in 2 years
2016
19
NA
2015
10
9