Master in Corporate Finance Program in Partnership with Citi – MCF

Master in Corporate Finance - MCF

Duration: 2 years
Language of instruction: English
Learning basis: The budget and contract (tuition fees and scholarships)
Start date: September 1, 2017
Degree: Masters

| | |
| --- | --- |
| | Mission |
Preparation of unique specialists in the field of corporate finance for the large national and international non-financial companies, investment banking departments of large-scale financial and consulting companies. These specialists should command:
Profound knowledge and skills of using financial and strategic toolkit as well as information technology use
Strong professional, analytical and leadership qualities applicable for solving managerial challenges necessary for advancing corporate governance level in the contemporary industry of knowledge

| | |
| --- | --- |
| | Master in Corporate Finance program peculiarities |
Unique career opportunities

Due to the strong corporate relationships of GSOM SPbU and regular interaction of students with real business-issues, which is a part of studying process, students of MiM program get a unique career opportunities in and out of Russian Federation. This fact may be proofed by the listing in Financial Times ranking (the main criteria for the schools in this ranking is an average graduate's salary). Students' knowledge are being evaluated according to the the European Credit Transfer and Accumulation System, ECTS. This fact creates value of the GSOM MiM diploma not only in Russia but all over the world.).

International experience

The MiM program provides conditions for Russian and international students from the top-ranked world business schools to work together on various projects, case studies and enrich their experience through academic and extra-curricular life in the Graduate School of Management SPbU.

Master in International Business program also implies one study abroad semester at a leading university / business school from the extensive list of the GSOM SPbU academic partners as an obligatory option for each student.

Enhanced opportunities for scientific activity

Students of the Master in Management program:

have access to databases on the leading international scientific magazines on management and economy
can take part in projects conducted by GSOM research centers such as the Center of corporate social responsibility, etc.
can get support from teachers in preparation of publications and reports at conferences (section "Young Scientists")

Practice-oriented curriculum structure

The curriculum of the program includes the core disciplines aimed at diversifying the study of all management areas, elective ones and range of trainings and workshops aimed at developing the professional and research competencies.

Access to a unique electronic library collection representing all main world publishing houses, and also an open free subscription to world-wide recognized databases on finance is provided to all students: AMADEUS Bureau van Dijk, DATASTREAM Thompson Reuters, Lexis-Nexis, Passport GMID, ZEPHYR Bureau van Dijk, SKRIN, SPARK.

| | |
| --- | --- |
| | Partnership with Citi |
The program is being carried out in partnership with Citi, one of the top financial world leaders. The participation is performed through:
providing practical trainings and guest lectures delivered by Citi experts
offering interships for students within Citi
recruitment of the best GSOM SPbU students
GSOM SPbU involvement in the initiatives directed towards the development of International Financial Center in Russia
assistance with attracting Citi and world economy top experts to participating in guest lectures and other special events

| | |
| --- | --- |
| | Cooperation with the international professional association Chartered Institute of Management Accountants (CIMA) |
The Corporate Finance program is realized in cooperation with large international professional association Chartered Institute of Management Accountants (CIMA). Activity of association covers 179 countries and unites more than 227 000 students worldwide. Possibility of obtaining professional qualification of CIMA in the field of strategic management accounting is an important consequence of membership in this association.
Cooperation of our university with CIMA gives the chance to graduates of the master MCF program to pass examinations for qualification of CIMA in the simplified order.
Details about CIMA and CIMA Gateway Exam you could find here.

| | |
| --- | --- |
| | Program structure |
One of the major competitive advantages of the Master in Corporate Finance program is represented by the highly qualified faculty of the Graduate School of Management, SPbU.
Over 30% of the operating faculty are international lecturers from the top-rated European universities and business schools.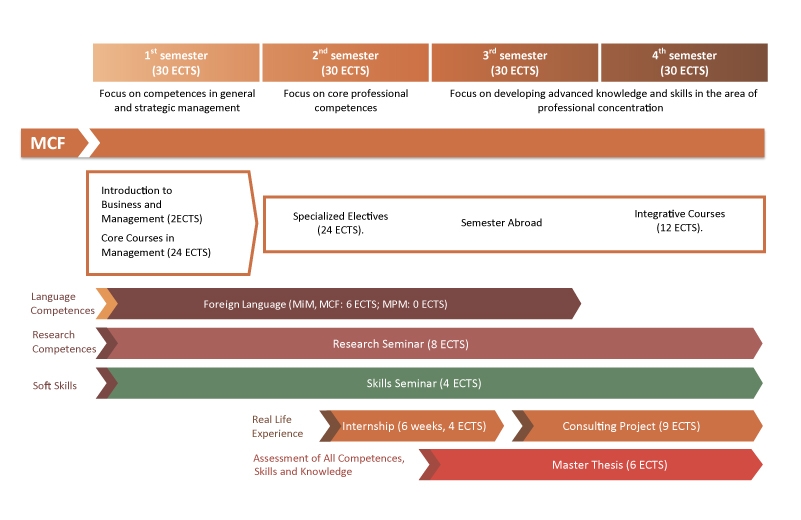 | | |
| --- | --- |
| | Students' retention rates |
Year
MCF
Enrolled
Completed in 2 years
2016
30
NA
2015
38
NA
2014
23
20
2013
32
26
2012
36
28
2011
29
27